Trailer Talk: This Week in Movies - 'Dark Shadows,' 'Where Do We Go Now?' & More
To all the loyal readers, I apologize that we didn't have a Trailer Talk column last week. I watched seven films last weekend at IFF Boston, so I was pretty busy writing reviews. If you're interested reading more about the movies that I saw, definitely head over to my news page. On top of the film festival, I also wanted to make sure I put out a review of "The Avengers" in time for its release. Luckily the Joss Whedon's flick lives up to the hype, and is very entertaining.  
This week in theaters you'll have the opportunity to watch the latest Johnny Depp/Tim Burton collaboration "Dark Shadows," the dramedy "Where Do We Go Now?" the Bobcat Goldthwait dark comedy "God Bless America," and the Chloë Grace Moretz drama "Hick."
MY PICKS FOR THE WEEK
If you like…
Superheroes: See "The Avengers"
Johnny Depp and Tim Burton: See "Dark Shadows"
Dark Comedy: See "God Bless America"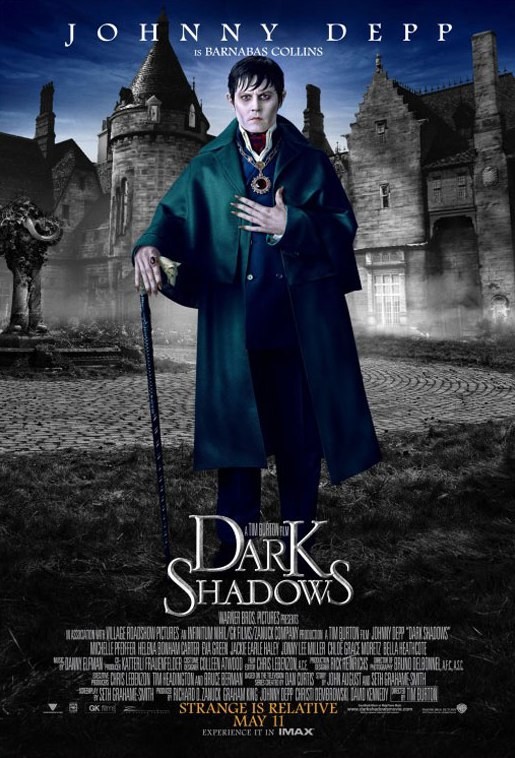 After being buried underground for two centuries, vampire Barnabas Collins (Johnny Depp) is inadvertently released into the strange world for the 1970s. Returning to his ancestral home, Barnabas finds that his dysfunctional descendents very much need his protection    
Director: Tim Burton ("Alice in Wonderland," "Sweeney Todd: The Demon Barber of Fleet Street")
Writer: Seth Grahame-Smith ("Abraham Lincoln: Vampire Hunter")
Based On: A television series by Dan Curtis
Notable Supporting Actors: Michelle Pfeiffer, Helena Bonham Carter, Eva Green, Jackie Earle Haley, Johnny Lee Miller, Chloë Grace Moretz, Christopher Lee, Alice Cooper
ORIGINALITY RATING: Medium. Stylistically "Dark Shadows" seems very similar to other Johnny Depp/Tim Burton movies. There are bizarre characters and the same quirky tongue-in-cheek humor that we're used to seeing from them. However instead of being so twisted that you laugh like other Burton films, "Dark Shadows" feels more like a true comedy. A prime example is Depp's line in the trailer, "You may strategically place your wonderful lips upon my posterior and kiss it repeatedly!" I cracked up when I heard that. The jokes concerning the culture shock Barnabas has from being in the 70s are also very funny; however I'm slightly worried that this could be a trailer which ruins all the best parts of the movie. Hopefully I'm wrong.                                     
WHO SHOULD SEE IT: Viewers who love every film that Johnny Depp and Tim Burton make together. If you enjoyed the original 60s television show this movie is based on, and you think it will translate well to the big screen, then you should see "Dark Shadows."                      
WHEN TO SEE IT: Opening night.