Trailer Talk: This Week In Movies - 'Cowboys & Aliens,' 'Crazy, Stupid, Love,' & More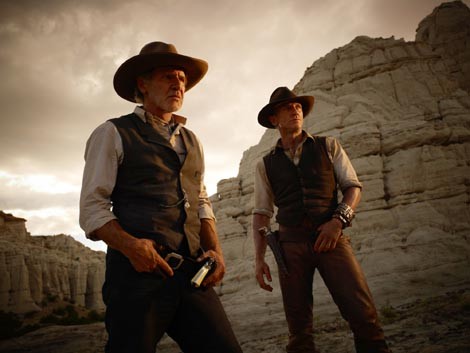 "Captain America: The First Avenger" surprised me last week, by outdoing other summer superhero films like "Thor" and "Green Lantern."  Director Joe Johnston delivers a good old fashioned fun time injecting action, humor, and just the right amount of camp into the film.  For more of my thoughts, check out my review.      
This week you'll have the chance to catch the sci-fi action epic "Cowboys & Aliens," the romantic dramedy "Crazy, Stupid, Love," the silly comedy "The Smurfs," the British alien invasion flick "Attack the Block," the independent drama "The Future," the biopic "The Devil's Double," the buddy cop movie "The Guard," and the documentary "Life in a Day." 
Apache Indians and settlers of a desert town are forced to set aside their differences in order to repel an alien invasion.      
"Iron Man" director Jon Favreau helms this sci-fi action epic.  His scribes from "Iron Man" Mark Fergus and Hawk Ostby team up with Damon Lindelof, Roberto Orci and Alex Kurtzman adapt the screenplay from a comic book by Scott Mitchell Rosenberg.  The star-studded cast for this movie includes Daniel Craig, Olivia Wilde, Sam Rockwell, and Harrison Ford.    
WHO SHOULD SEE IT:  Fans of the Cowboys & Aliens comic should be first in line to see this film.  If you're excited to see James Bond (Craig) and Indiana Jones (Ford) working together onscreen, then you should watch "Cowboys & Aliens."         
Cal (Steve Carell) and Emily (Julianne Moore) have been living a perfectly average life together, that is until Emily surprises Cal by asking for a divorce.  The heartbroken Cal is forced to navigate the single scene, but thankfully he has some help from professional ladies man Jacob Palmer (Ryan Gosling).        
Glenn Ficarra and John Requa co-direct this romantic dramedy.  "Cars 2" and "Tangled" writer Dan Fogelman pens the screenplay.  Carell, Moore, and Gosling are joined by the talented Emma Stone, Marisa Tomei, and Kevin Bacon.       
WHO SHOULD SEE IT:  Viewers who find the concept of cowboys fighting aliens too out there, should see this.  If you enjoyed Ficarra and Requa's venture into the romantic realm "I Love You Philip Morris," then you should view "Crazy, Stupid, Love." 
The cute blue creatures of Smurf village end up in New York City after the evil wizard Gargamel (Hank Azaria) chases them from their home in the forest.    
Raja Gosnell, the man behind family films like "Scooby-Doo," directs this silly comedy.  Screenwriting team J. David Stem and David N. Weiss teams up with collaborators Jay Scherick and David Ronn to create the screenplay for this movie.  A number of celebrities lend their voices to the Smurfs including Alan Cumming, Katy Perry, Fred Armisen, George Lopez, Anton Yelchin, Jeff Foxworthy, and Paul Reubens.        
WHO SHOULD SEE IT: Parents who can't take their children to see "Cowboys & Aliens" or "Crazy, Stupid, Love," should take them to "The Smurfs."  If you've always loved the Smurfs and you've been patiently waiting for a big screen adventure featuring them, you should catch "The Smurfs."              
A group of teenage gang members in South London seek to defend their housing estate, Wyndham Tower, from an alien invasion.     
Brit Joe Cornish writes and directs this sci-fi action comedy.  Nick Frost of "Shaun of the Dead" and "Hot Fuzz," fame stars in a lead role, with fellow collaborators from those films Edgar Wright, James Wilson, Nira Park, and James Biddle producing.         
WHO SHOULD SEE IT: Anglophiles that appreciate the dry British wit should see this.  If you've enjoyed action comedies like "Shaun of the Dead" and "Hot Fuzz," then you should seek out "Attack the Block."       
After a couple (Miranda July and Hamish Linklater) decide to adopt a stray cat, their perspective on life changes drastically, altering the course of time and space, as well as testing their faith in each other.      
Indie filmmaker and performance artist Miranda July both writes and directs this intense drama. 
WHO SHOULD SEE IT: Independent film aficionados that appreciate existential stories should see this.  If you really loved Miranda July's 2005 film "Me and You and Everyone We Know," then you should find "The Future" wherever it is playing.           
Latif Yahia (Dominic Cooper) bears witness to lavish extravagance and sadistic brutality under the reign of Saddam Hussein, when he is forced to become the body double of the dictator's son Uday. 
Lee Tamahori, the director of 2007's "Next," helms this biographical drama.  Michael Thomas adapts a book by Latif Yahia on his life experiences for the screen.
WHO SHOULD SEE IT: History buffs interested in learning more about Saddam's time in power from someone who has seen the inside, should see this.  If you appreciate Latif Yahia's book, then you should give its big screen adaptation "The Devil's Double" a chance.          
An unorthodox Irish cop (Brendan Gleeson) must team up with a by-the-book FBI agent (Don Cheadle) to investigate an international drug ring. 
John Michael McDonagh both writes and directs this buddy cop movie. 
WHO SHOULD SEE IT: Audiences that prefer Irish films to English ones should see this.  If you like buddy cop movies that lean toward the darker side, then you should find "The Guard." 
This documentary was shot by filmmakers all over the world, to serve as a time capsule for showing future generations, what life was like on July 24th, 2010. 
Experience documentarian Kevin Macdonald teams up with first timer Joseph Michael to co-direct this film.
WHO SHOULD SEE IT: People who love cutting edge documentaries shot by the average citizen should see this.  If you're interested in gaining perspective on what daily life is like for other people of the world, then you should absorb "Life in Day."