Trailer Talk: This Week In Movies - 'Couples Retreat,' 'An Education' & More

Months of waiting for the horror/comedy "
Zombieland
" were thankfully not spent in vain. Both hilarious and poignant, this film reminds us that even in the post-apocalyptic world that home and family are what you make them.
Narration by the lead character Columbus (
Jesse Eisenberg
) provides a great deal of humor, especially as he expounds upon his rules of survival in the zombie infested world. These rules make frequent appearance on screen during relevant moments, adding additional laughs.
Woody Harrelson
is perfect as Tallahassee, the fearless badass with nothing to lose. He's responsible for some of the most entertaining zombie kills of the movie.
Bill Murray
also shines in his cameo appearance, playing a caricature of himself.
Almost all of the films opening this week are limited releases, so depending on where you are, you will have different options at the movie theater. The romantic comedy "Couples Retreat" opens in theaters across the country, while various locations will see "Good Hair," "An Education," "St. Trinian's" and "Trucker."
Four couples embark on a tropical island vacation hoping to take advantage of a great group rate. While one pair is there to work on their marriage, the others fail to realize that participation in the couples' therapy is required.
Actor Peter Billingsly steps behind the camera to direct his first feature length film with this comedy. Dana Fox, the woman behind romantic comedies like "
What Happens in Vegas...
" writes this screenplay in collaboration with buddies
Vince Vaughn
and
Jon Favreau
, who also star in the film.
WHO SHOULD SEE IT:
If you like the interaction between Vince Vaughn and Jon Favreau in the movie "
Swingers
" you will probably enjoy this slightly more mature couples comedy. Admirers of
Jason Bateman
and
Kristen Bell
will want to see how the wacky couple works out their differences over the course of the trip.
Chris Rock
hosts this comical documentary exploring the history of African American hairstyles.
Veteran comedic writer Jeff Stilson, known for working on late night shows like "
The Daily Show
," directs his first film with this documentary. Stilson shares the writing credit for the movie with Chris Rock, Chuck Sklar, and Lance Crouther. Interviews with famous African American celebrities in "Good Hair" include Maya Angelou,
Eve
,
Ice-T
,
Paul Mooney
,
Raven-Symone
and
Al Sharpton
.
WHO SHOULD SEE IT:
If you appreciate Chris Rock's sense of humor and have an interest in African American popular culture, then this film is for you. African Americans who find certain trends in hairstyles funny, or want to know why they are popular will get some insight from the interviews in "Good Hair."
This coming-of-age story focuses on a teen (Carey Mulligan) in 1960s suburban London, and how her life changes after the arrival of a wealthy playboy (
Peter Sarsgaard
) nearly twice her age.
Danish filmmaker Lone Sherfig directs this tender coming-of-age tale set in the 60s. Based on Lynn Barber's memoir, British author Nick Hornby pens the screenplay for the film. Hornby is well known for his books that have been adapted to the screen like "
Fever Pitch
," "About a Boy," and "
High Fidelity
."
WHO SHOULD SEE IT:
Nick Hornby fans will want to see how he does adapting a memoir for the screen that isn't his own to see if it measures up to his previous work. If you enjoy period pieces, especially movies set in the 60s, you will enjoy the visual style of "An Education."
St. Trinian's is not your typical private school. Its headmistress celebrates freedom and anarchy as institutional goals. When the school finds itself in dire financial trouble, the girls of St. Trinian's plan a heist to save the school from bankruptcy.
Released two years ago in the UK, this film is just making its run in the United States, with a sequel planned for release overseas by the end of the year. Oliver Parker and Barnaby Thompson co-direct this British comedy and its coming sequel. The lengthy list of writers for "St. Trinian's" includes Piers Ashworth, Jamie Minoprio, Nick Moorcroft, Ronald Searle, and Jonathan M. Stern.
WHO SHOULD SEE IT:
Audiences that enjoy tongue-in-cheek British humor should find this silly premise hilarious. If you find the idea of
Rupert Everett
in drag funny, then you should see him as the school's headmistress in the film.
A female truck driver (
Michelle Monaghan
) hopes to reform her life when she takes in her estranged 11-year-old son.
This independent film is written and directed by newcomer James Mottern. Supporting Michelle Monaghan in the film are two actors with currently running television shows:
Nathan Fillion
and
Benjamin Bratt
.
WHO SHOULD SEE IT:
If you enjoy a low budget independent film, and supporting new filmmakers then you should see "Trucker." Those interested in seeing Nathan Fillion in more of a dramatic role than his typical fare will want to see him as Monaghan's love interest.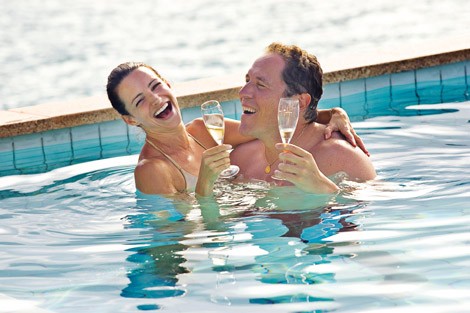 Image © Universal Pictures
Story by Starpulse contributing writer
Evan Crean
, a movie trivia guru and trailer addict with a practically photographic memory of actors and directors. Get a first look at the movies premiering each week, which which ones will be worth your $10, which ones you should wait to rent and which ones aren't worth your time.