Trailer Talk: This Week in Movies - 'Contraband,' 'Joyful Noise' & More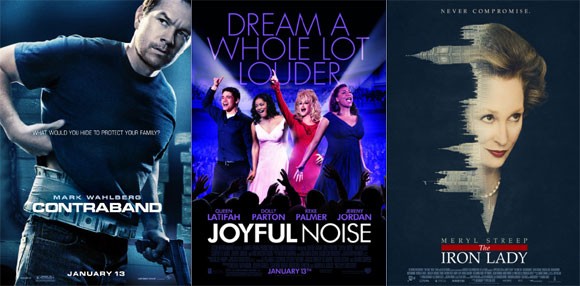 After a great deal of hype, I finally watched David Fincher's "The Girl with the Dragon Tattoo," and honestly I'm not in love with it.  Aside from the fact that it's long-winded at 2.5 hours, the movie isn't all that exciting in the first act.  We get to see two separate storylines involving Lisbeth (Rooney Mara) and Mikael (Daniel Craig), which aren't very compelling on their own, especially Craig's portion. 
My biggest gripe however, is its over-sexualized lead character Lisbeth.  Even though I haven't read the book series on which the film is based, I understand that Lisbeth is not terribly secure with her body image.  In Fincher's adaptation, Lisbeth ends up naked quite often, and as much as it pains me to complain (Mara is quite attractive), all of the sex and nudity just doesn't feel right for the character. 
Aside from these annoyances "The Girl with the Dragon Tattoo" is a kick-ass thriller once Lisbeth and Mikael team up to investigate murder and corruption in the Vanger family.  Atticus Ross and Trent Reznor are much to thank for their haunting score which creates tension so thick in the theater that you can cut it with a knife.  Terrific supporting performances also come from Christopher Plummer and Stellan Skarsgård, who play two prominent members of the Vanger family.  My Grade: B
Arriving in theaters this week are the Mark Wahlberg crime thriller "Contraband," the musical comedy "Joyful Noise," the Margaret Thatcher biopic "The Iron Lady," the indie drama "Albatross," the sci-fi nail biter "The Divide," and the romantic dramedy "Loosies." 
MY PICK FOR THE WEEK: Contraband