Trailer Talk: This Week In Movies 'Clash Of The Titans,' 'The Last Song' & More

I'm going to see "Clash of the Titans" this week but honestly I'm not terribly excited about the film.  To me it seems like your run-of-the-mill epic action/fantasy with loads of computer generated effects and explosions.  I have yet to see a preview that has made me think this movie has anything special to offer.  The only things that have my attention are the amusing tagline "Damn the Gods," and the presence of Sam Worthington, Liam Neeson, and Ralph Fiennes.  As a critic though, I often approach films with the hope that they will prove my preexisting notions wrong, and "Clash of the Titans" is no different in that regard. 
Aside from "Clash of the Titans," the movies opening this week include the Disney drama "The Last Song," Tyler Perry's dramedy "Why Did I Get Married Too," the family comedy with Brendan Fraser "Furry Vengeance," and the genre spanning "Leaves of Grass."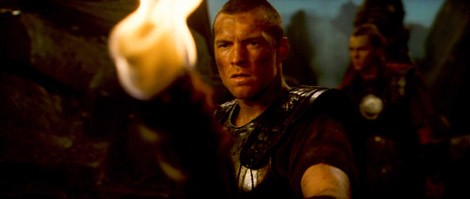 CLASH OF THE TITANS
Loosely adapted from Greek mythology, this story follows Perseus (Sam Worthington), a god raised on Earth, on his critical mission to stop Hades (Ralph Fiennes) before he can seize power from Zeus (Liam Neeson) and set free hell on Earth.
The man who helmed action films such as 2008's "Incredible Hulk" and 2005's "Transporter 2," Louis Leterrier, directs this effects spectacular.  Travis Beacham joins previous collaborators Phil Hay and Matt Manfredi in penning the screenplay for "Clash of the Titans." 
WHO SHOULD SEE IT:  Moviegoers that appreciate effects driven films set in ancient times are the ones that should see Sam Worthington slaying beasts sent by the gods.  If you like formulaic action epic movies about the conflict between good and evil then "Clash of the Titans" is for you.
THE LAST SONG
This drama centers on a rebellious young woman (Miley Cyrus) forced to spend a summer with her estranged father, who deserted his family in the past. 
Television director Julie Ann Robinson makes her big screen directing debut with this coming of age drama.  Author Nicholas Sparks, whose novels have been adapted for the big screen numerous times, pens the screenplay for this film.  Since this movie constitutes another based on one of Sparks' novels, Jeff Van Wie assists Sparks in adapting it for the screen.   
WHO SHOULD SEE IT:  Viewers hoping to see a sappy family drama featuring the Hanna Montana star Miley Cyrus should go to see this film.  If you like Hallmark channel movie of the week type stories then you should watch "The Last Song."
WHY DID I GET MARRIED TOO
Four couples reunite for their annual vacation together where they spend time analyzing their marriages.  Their relaxation in the Bahamas is rudely interrupted by the arrival of an ex-husband determined to win back his recently remarried ex-wife. 
African American auteur and filmmaker Tyler Perry writes and directs this movie about the ins and outs of marriage. 
WHO SHOULD SEE IT:  Fans of Tyler Perry's style of wrapping comedy around stories with serious emotional and moral lessons should see this film.  If you're a follower of singer Janet Jackson and you'd like to see her acting then you should check out "Why Did I Get Married Too."  
FURRY VENGEANCE
An oblivious real estate agent gets in way over his head after he agrees to develop property in an Oregon forest, where the area's animals decide to sabotage his plans using any means necessary.  
Roger Kumble, the man behind the comedies "College Road Trip" and "Just Friends," directs this slapstick animal comedy.  The scribes for 2007's "Mr. Woodcock," Michael Carnes and Josh Gilbert, pen its screenplay. 
WHO SHOULD SEE IT: Parents looking for a family-friendly comedy that has simple slapstick humor should see this film.  If you appreciate Brendan Fraser regardless of what type of movie he's in, then you should see "Furry Vengeance." 
LEAVES OF GRASS
This comedy about brotherly love centers on an Ivy League professor (Ed Norton) lured back to his Oklahoma hometown by his twin brother (Ed Norton), a small time pot-grower with a plot to take down the local drug kingpin. 
Tim Blake Nelson, an actor with occasional behind the scenes experience like 2001's "O," writes and directs this comedy/drama/crime thriller. 
WHO SHOULD SEE IT: Audiences that love when an actor plays twin characters are the first one that should see Ed Norton portraying two remarkably different characters in this film.  If believe that Ed Norton can do no wrong as an actor, you should watch "Leaves of Grass."