Trailer Talk: This Week In Movies - 'Cars 2,' 'Bad Teacher' & More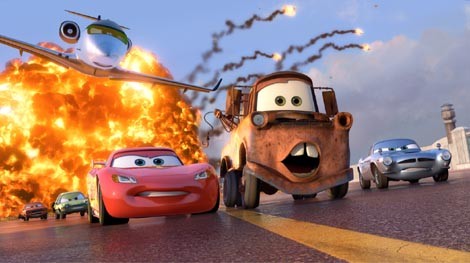 The long-awaited superhero flick "Green Lantern" was a huge disappointment last week.  Normally I love Ryan Reynolds for his smug sarcasm and his lovable slacker type characters, but not even he could save this exercise in superficial storytelling.  If you haven't already read it, check out my review, for my complete thoughts. 
Arriving in theaters this week are the Disney Pixar sequel "Cars 2," the R-rated Cameron Diaz comedy "Bad Teacher," and the Los Angeles drama "A Better Life."  I will be attending a screening of "Bad Teacher," so definitely watch out for a review later in the week.    
Hotshot race car Lightning McQueen (voice of Owen Wilson) and his pal Mater (voice of Larry the Cable Guy) travel overseas to compete in the World Grand Prix.  The road to victory becomes littered with obstacles however, as Mater gets caught up in an unexpected adventure involving international espionage. 
Pixar visionary John Lasseter co-directs this Disney sequel with the assistance of Brad Lewis.  Lasseter, Lewis, and Dan Fogelman developed the story, which was later turned into the screenplay by Ben Queen, the writer of the 2007 television series "Drive." 
A number of famous actors also lend their voices to "Cars 2" including Michael Caine, Emily Mortimer, Eddie Izzard, John Turturro, Joe Mantegna, Bonnie Hunt, Tony Shalhoub, Jeff Garlin, and Bruce Campbell. 
WHO SHOULD SEE IT:  Parents looking for a family friendly film to take their children to this weekend should check this out.  If you are a huge fan of the computer animated stories coming out of Pixar, and you appreciate the original "Cars," then you should watch "Cars 2."    
Middle school instructor Elizabeth Halsey (Cameron Diaz) is a bad teacher.  She's rude to her students, she swears a lot, and she is unbelievably self-centered.  After Elizabeth is dumped by her sugar daddy, she devises a plan to seduce one of her colleagues (Justin Timberlake), a move which will put her up against another well-liked teacher (Lucy Punch).   
Jake Kasdan, son of filmmaker Lawrence Kasdan and the man behind "Walk Hard: The Dewey Cox Story," helms this R-rated comedy.  Gene Stupnitsky and Lee Eisenberg, scribes for "The Office" and "Year One," team up again to pen this film's screenplay. 
WHO SHOULD SEE IT:  Audiences that revel in outrageous comedies should see this movie.  If you don't want to see tame fare like "Cars 2," and you are interested to see Cameron Diaz in something that pushes the envelope, then you should catch "Bad Teacher."    
A gardener in East Los Angeles (Demián Bichir) labors to keep his son (José Julián) away from gangs and immigration agents, as he tries to provide his boy with better opportunities in life. 
Chris Weitz, the man responsible for "New Moon" and "About a Boy," directs this Latino drama set in Los Angeles.  Eric Eason adapts the screenplay for the film from a story by author Roger L. Simon.    
WHO SHOULD SEE IT: Latino viewers, whose parents immigrated to the United States to help provide a better life, will probably identify the most with the themes in this movie.  If you are not Latino though and you are looking for something more serious than "Cars" or "Bad Teacher," then you should seek out "A Better Life" this weekend.