Trailer Talk: This Week In Movies - 'Captain America: The First Avenger,' 'Friends With Benefits' & More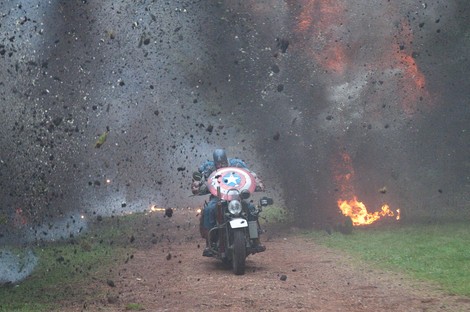 I was incredibly happy last week that the final Harry Potter chapter "Harry Potter and the Deathly Hallows: Part 2" did not disappoint.  It's a thrilling conclusion that does not waste a minute of screen time.  If you haven't already, definitely check out my review (it's free of spoilers I promise). 
In the week following the release of "Deathly Hallows: Part 2," you'll have the opportunity to see the Marvel epic "Captain America: The First Avenger," the Justin Timberlake/Mila Kunis romcom "Friends with Benefits," the science fiction drama "Another Earth," the Holocaust related drama "Sarah's Key," and the teen romance "The Myth of the American Sleepover." 
CAPTAIN AMERICA: THE FIRST AVENGER
After he is deemed physically unfit for military service during World War II, Steve Rogers (Chris Evans) volunteers for a secret project that turns him into Captain America—a superhero responsible for defending America's ideals.  His first task: to fight the Red Skull (Hugo Weaving), head of Nazi propaganda.      
Joe Johnston, the director last year's remake "The Wolfman," helms this Marvel superhero epic.  "Chronicles of Narnia" scribes Christopher Markus and Stephen McFeely team up once more to pen the screenplay for this film, basing the characters on Joe Simon and Jack Kirby's comic books. 
WHO SHOULD SEE IT:  Marvel comic fans that are looking forward to the upcoming "Avengers" film should see this to learn Captain America's back story.  If you've always loved Captain America as a hero and you think Chris Evans will do him justice, then you should watch "Captain America: The First Avenger."     
Dylan (Justin Timberlake) and Jamie (Mila Kunis) try their best to avoid the clichés of Hollywood romcoms, however they soon learn that adding sex to their friendship leads to emotional complications.    
Will Gluck, the man behind the Emma Stone comedy "Easy A," directs and co-writes this romantic comedy.  Gluck helps out writers Keith Merryman and David A. Newman, who developed the premise with Harley Peyton.  In addition to Timberlake and Kunis, this talented cast includes Patricia Clarkson, Jenna Elfman, Richard Jenkins, Woody Harrelson, and Andy Samberg.   
WHO SHOULD SEE IT:  Viewers, who don't like superhero movies, should see this romcom this weekend.  If you liked the idea of the film "No Strings Attached," which came out earlier this year, but you didn't care for its execution, you should see if "Friends with Benefits" does the concept better.    
On the same night a duplicate Earth is discovered in the solar system, a promising young student (Brit Marling) and a celebrated composer (William Mapother) cross paths in a tragic accident, which permanently alters the course of their lives. 
Documentarian Mike Cahill co-writes and directs this science fiction drama.  Lead actress Brit Marling aids Cahill with penning the screenplay.      
WHO SHOULD SEE IT: Independent film aficionados should definitely seek out this picture.  If you like dramas that involve contemplation of the path not taken, then you should catch "Another Earth."        
In present-day Paris, a journalist (Kristen Scott Thomas), suddenly finds her life intertwined with a young girl, whose family was separated during the infamous Vel' d'Hiv Roundup in 1942. 
French filmmaker Gilles Paquet-Brenner writes and directs this drama tied to the Holocaust.  Paquet-Brenner works with Serge Joncour to adapt the screenplay from a novel by Tatiana De Rosnay.    
WHO SHOULD SEE IT: Foreign film enthusiasts who enjoy French language stories should see this.  If you're a history buff who likes tales tied to the Holocaust and you appreciate actress Kristin Scott Thomas, then you should check out "Sarah's Key."     
THE MYTH OF THE AMERICAN SLEEPOVER
Four young couples become entangled as they search for love and adventure on the last night of their summer vacation. 
Newcomer David Robert Mitchell writes and directs this dramedy about young love and teen angst. 
WHO SHOULD SEE IT: Teenagers, looking for a film which speaks more to them than other ones opening this weekend, should see this.  If you like independent romantic dramas, then you should see "The Myth of the American Sleepover."