Trailer Talk: This Week in Movies - 'Bridesmaids,' 'Priest' & More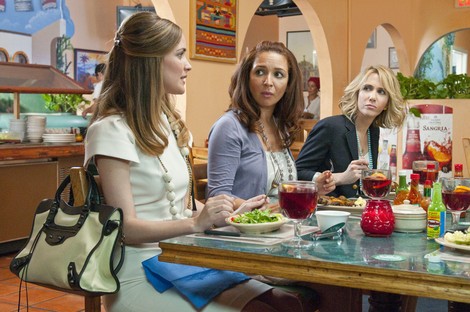 I apologize to all my faithful readers that there was no Trailer Talk column last week.  Between my coverage of IFF Boston and a trip to Chicago, unfortunately it was just not in the cards.  I did see some great flicks though at IFF Boston and met some interesting filmmakers.  If you haven't already checked out the coverage, definitely read my reviews and watch my interviews. 
Of the movies that came out last week, I had already seen Jodie Foster's third directorial effort "The Beaver," starring Mel Gibson.  In his role as the mentally ill Walter Black, Gibson puts forth a very raw performance, which really gets you to sympathize with him.  Foster is also solid as caring his wife, and Anton Yelchin gives credibility to his angry son, but what really makes this movie interesting is its strange parallels to Charlie Sheen's rise and fall from public approval. 
When Walter first dons the beaver puppet, people are supportive of his measure.  They buy into his crazy antics, giving him more and more attention, however once they've tired of him, they turn on him.  Even though she did not say this parallel was intentional in my interview with her, Foster makes some interesting statements about how we chew up and spit out celebrities as a society.  My Grade: B+     
Arriving at the box office this week is a plethora of films including the Kristen Wiig comedy "Bridesmaids," the sci-fi action epic "Priest," the Joseph Gordon-Levitt drama "Hesher," the Will Ferrell dramedy "Everything Must Go," the dance themed Latino tale "Go for It!" the 80s coming of age story "Skateland," the Yves Saint-Laurent documentary "L'Amour Fou," and finally the Chinese period piece "City of Life and Death." 
When Annie (Kristen Wiig) learns that her best friend Lillian (Maya Rudolph) will be getting married, she is dismayed, but feels obligated to serve as Lillian's maid of honor.  Even though she is lovelorn and broke, Annie tries to survive the costly and strange rituals with a wacky group of bridesmaids.       
"Freaks and Geeks" creator Paul Feig directs this female comedy, which is co-written by "Saturday Night Live" comedienne Kristen Wiig and Annie Mumolo.                     
WHO SHOULD SEE IT:  Female audiences seeking their own version of wild pre-matrimonial adventures similar to "The Hangover," should see this film.  If you appreciate Kristen Wiig's sense of humor on SNL, then you will probably laugh at her antics in "Bridesmaids." 
In a post-apocalyptic world where humans and vampires have been feuding for centuries, Priest (Paul Bettany) a legendary soldier from the last big war, now lives in obscurity.  However when his niece is kidnapped by a murderous gang of bloodsuckers, Priest breaks his sacred vows of peace to rescue her before she becomes one of them.   
Scott Charles Stewart, the man who helmed Paul Bettany's 2010 action flick "Legion," directs him again in this sci-fi epic.  Newcomer Cory Goodman adapts the story from a graphic novel by Min-Woo Hyung which bears the same name.            
WHO SHOULD SEE IT:  Readers of the comic book Priest, who have been looking forward to its big-screen adaptation, should be first in line to see this film.  If enjoyed Stewart and Bettany's last collaboration "Legion," then you should definitely give "Priest" a chance.      
Hesher, an anti-social loner (Joseph Gordon-Levitt) moves into a grief-stricken family's garage.  Despite the uninvited guest's temper issues and questionable personal habits, he mentors young TJ (Devin Brochu), who is still reeling from the loss of his mother.    
"Hesher" represents the first feature length movie that filmmaker Spencer Susser has both written and directed.  Susser receives help on the screenplay from David Michôd, whose crime drama "Animal Kingdom," was critically acclaimed in 2010.  Both men base the screenplay on a story originally devised by Brian Charles Frank.  Joining Gordon-Levitt on-screen is Oscar winner Natalie Portman and Rainn Wilson, who plays TJ's father.      
WHO SHOULD SEE IT: Viewers that think Joseph Gordon-Levitt is a talented actor, should see this movie.  If you dig stories where grief-stricken people draw inspiration from unlikely sources, then you should see "Hesher."            
After Nick Halsey (Will Ferrell) is laid off, he arrives at home to find that his wife has also left him and dropped his possessions on the front lawn.  The distraught Nick starts drinking again, but when he decides on a whim to sell all his stuff, the help he receives from two neighbors (Rebecca Hall and Christopher Jordan Wallace), could turn things around for him. 
Fresh-faced filmmaker Dan Rush writes and directs this Will Ferrell dramedy.  Rush bases his tale on a short story by Raymond Carver titled "Why Don't You Dance." 
WHO SHOULD SEE IT:  Will Ferrell followers that enjoyed his dramatic turn in "Stranger than Fiction," should see this film.  If you think the premise of selling off your worldly possessions to start over sounds like an interesting one, then you should check out "Everything Must Go." 
Carmen (Aimee Garcia) is a tough student who lives in the Chicago underground dance scene.  Even though dance is her passion, she attempts to follow her parents' expectations by attending college and working.  Carmen's professor catches her performing one day and encourages her to audition for a formal dance school; however this creates conflict with those close to her who disapprove including her family and boyfriend.   
Newcomer Carmen Marron both writes and directs this coming of age drama.
WHO SHOULD SEE IT: Latino viewers will most likely identify with Carmen's struggle against her Mexican immigrant parents, and their expectation that she get a formal education and high paying job.  If you dig other movies about the struggles of dancers in the underground scene to achieve mainstream success, then you should seek out "Go For It!" 
During the early 1980s in east Texas, significant events inspire a 19-year-old skating rink manager (Shiloh Fernandez) to change his comfortable life.
First-time director Anthony Burns helms this period piece drama.  Burns co-writes the screenplay with assistance from siblings Brandon and Heath Freeman.
WHO SHOULD SEE IT: Moviegoers, that prefer films set during the 1980s, should see this film.  If you appreciate coming of age stories like "Adventureland," then you should catch "Skateland."
L'AMOUR FOU
This documentary on the relationship between fashion designer Yves Saint-Laurent and his lover Pierre Berge, focuses on the emotional significance of the art auction Berge held in the wake of Saint-Laurent's passing.
The French language documentary represents the first directorial experience for Pierre Thoretton.
WHO SHOULD SEE IT: Gay audiences will most likely connect with the emotional weight of Berge's attempts to sell a collection that has so much sentimental attachment for him.  If you are fascinated by fashion designer Yves Saint-Laurent, then you should find out more about his personal life through the documentary "L'Amour Fou." 
As Japanese troops close in on Nanking in 1937, individuals on both ends of the conflict ponder their fates as the Chinese capital begins to crumble. 
Chuan Lu, the man behind 2004's "Mountain Patrol" and 2002's "The Missing Gun," directs and writes this historically based tale. 
WHO SHOULD SEE IT: History buffs that are fascinated by the struggles between Japan and China during World War II should see this film.  If you have been following Chuan Lu's work and you've enjoyed it, then you should watch "City of Life and Death."