Trailer Talk: This Week In Movies - 'Breaking Dawn Part 1,' 'Happy Feet Two,' & More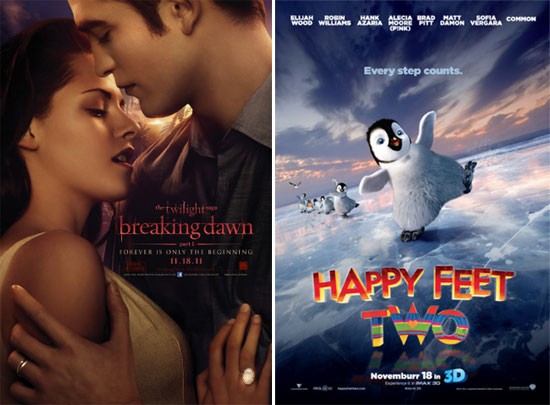 Last week, I saw Clint Eastwood's biopic "J. Edgar" starring Leonardo DiCaprio as J. Edgar Hoover.  Eastwood struck out with me on "Invictus" and "Hereafter," but he hit a home run with this movie.  He tells a compelling and emotional tale about J. Edgar Hoover's rise to power, focusing on the man behind the legend. 
Those expecting a story which concentrates on the organization itself, will most likely be disappointed, however if you're looking for something which explores J. Edgar Hoover's private life and his influences then you'll dig this movie.  The film is beautifully shot, incredibly well acted, and the makeup is superb.  My Grade: A     
Twihards will be excited this week that they'll have the chance to see "The Twilight Saga: Breaking Dawn Part1."  For everyone else though, there's the silly animated film "Happy Feet Two," the George Clooney dramedy "The Descendents," the British drama "Tyrannosaur," the independent feature "The Lie," and the family feud-filled "Another Happy Day." 
MY PICK FOR THE WEEK: The Descendants
THE TWILIGHT SAGA: BREAKING DAWN PART 1
The Quileute and the Volturi seek out Edward and Bella (Robert Pattinson and Kristen Stewart), whose unborn child threatens the existence of both the werewolves and the vampires. 
Director: Bill Condon ("Dreamgirls," "Kinsey")
Writers:  Melissa Rosenberg ("Twilight," "New Moon,")
Based on: Stephanie Meyer's popular novels
Notable Supporting Actors: Taylor Lautner, Anna Kendrick, Michael Sheen
ORIGINALITY RATING: Medium.  Copying the "Harry Potter" strategy, the final book in Stephanie Meyer's series has been split into two films.  The real question is whether it will also be an effective storytelling method.  With director Bill Condon's experience directing musical films like "Dreamgirls" and "Chicago," it should be interesting to see how he handles the melodramatic vampire series.     
WHO SHOULD SEE IT:  People who can't get enough of the "Twilight" series regardless of whether they've already read all the books, or if they've just discovered them.  If you dig vampire love stories, and you think the male leads Pattinson and Lautner are dreamy, then you should watch "Breaking Dawn Part 1."                          
WHEN TO SEE IT: Opening night if you're a Twihard, otherwise wait a week so you don't have to fight the crowds.