Trailer Talk: This Week in Movies - 'Blue Valentine' & 'Another Year'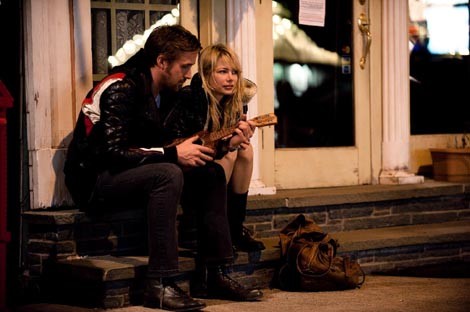 I hope everyone had a Merry Christmas and received some excellent presents.  The gift I received that I'm the most excited about, is a Blu-ray player.  I can't wait to see some awesome HD movies with it like "Kick Ass," "Inception," and "Scott Pilgrim vs. the World."    
As part of yearly tradition, my family watched our good old VHS copy of "A Christmas Story."  It amazes me how this film has become so ingrained in our popular culture, and that it's shown for 24 hours straight on TNT.  Often I can't believe that I can watch it every year without tiring of it, but I tend to keep a sentimental attachment to the VHS medium itself and the movie in particular because I grew up with them. 
If you're like me and you still have a fondness for your old VHS tapes, I highly recommend checking out a book called The Portable Grindhouse by Jacques Boyreau, which celebrates the lost skill of VHS cover art.  There's not a whole lot of content to read, but the book is filled with box designs from hilarious titles of the past.       
The week leading into the New Year is a quiet one at the box office, with only two new films arriving in theaters: "Blue Valentine" and "Another Year."   
BLUE VALENTINE
"Blue Valentine" jumps between the idyllic past and the troubled present of the average couple Dean (Ryan Gosling) and Cindy (Michelle Williams).  It travels through their whirlwind courtship and through the struggles they have faced as they now attempt to save their marriage.    
Documentary filmmaker Derek Cianfrance wrote and directed this romantic drama.  Cianfrance penned the screenplay for the film with the assistance of previous collaborator Joey Curtis and Cami Delavigne.        
WHO SHOULD SEE IT:  Independent film fans who like realistic stories about regular people should see this movie.  If you think that Ryan Gosling and Michelle Williams will have excellent on-screen chemistry then you should watch "Blue Valentine."      
ANOTHER YEAR
"Another Year" shows us four seasons in the life of a content married couple (Jim Broadbent and Ruth Sheen), and their relationships with their family and friends who are all absolutely miserable.   
Mike Leigh, the man behind 2008's "Happy-Go-Lucky," writes and directs this British dramedy. 
WHO SHOULD SEE IT:  Audiences who searching for something less serious than "Blue Valentine," but not something overly comedic, should go see this film.  If you appreciated Mike Leigh's last movie "Happy-Go-Lucky" then you should check out "Another Year."