Trailer Talk: This Week in Movies - 'Black Swan,' 'All Good Things,' & More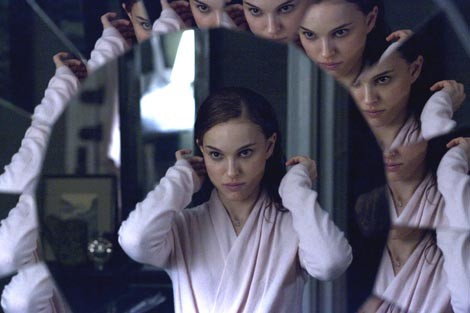 I hope everyone had a happy and safe Thanksgiving filled with good food and excellent company.  As part of a tradition in my family, we watched the movie "Planes, Trains, and Automobiles" starring John Candy and Steve Martin.  This road trip comedy which no doubt influenced this year's "Due Date," tells the story of a man (Martin) racing home to Chicago for Thanksgiving with his family. 
His journey is terrorized by an obnoxious stranger (Candy) he can't seem to shake.  The odd couple is forced to travel together, enduring a comical series of catastrophes, while unwittingly forming a friendship.  Under the skillful writing and direction of master filmmaker John Hughes this movie, is both hilarious and touching.  My Grade: A   
This week in theaters, you will have the opportunity to see Darren Aronofsky's latest film "Black Swan," the dark thriller "All Good Things," the wacky Jim Carrey comedy "I Love You Philip Morris," the period piece drama "Night Catches Us," the foreign horror flick "Rare Exports: A Christmas Tale," the samurai action epic "The Warrior's Way," and the small town murder mystery "Meskada."             
While questing for a prestigious lead role in a production of Swan Lake, a veteran ballerina (Natalie Portman) develops a twisted friendship with a young danger (Mila Kunis) that threatens to destroy her entire life. 
Darren Aronofsky, the filmmaker behind dark dramas like "The Wrestler" and "Requiem for a Dream," helms this racy thriller.     Previous Aronofsky collaborator Mark Heyman pens the screenplay for this movie with the assistance of John J. McLaughlin and newcomer Andres Heinz, who created the original story. 
WHO SHOULD SEE IT:  Audiences that appreciate Darren Aronosky's previous works should be first in line to see this one.  If you are excited to see actresses Natalie Portman and Mila Kunis square off against each other then you should see "Black Swan."      
Based on a real life murder mystery during the 1980s, this film tells the story of a New York real estate heir (Ryan Gosling) whose wife (Kirsten Dunst) disappears under suspicious circumstances. 
Award winning documentarian Andrew Jarecki directs this fact based thriller.  One of Jarecki's producers and cameramen on his documentary "Capturing the Friedmans," Marc Smerling, co-writes the screenplay for this story with newcomer Marcus Hinchey. 
WHO SHOULD SEE IT:  Viewers that are engrossed by the crimes of the rich and famous should see this movie.  If you are a Ryan Gosling or Kirsten Dunst follower then you should catch "All Good Things."            
During his second stint in the clink, con artist Steven Russell (Jim Carrey) commits the ultimate scam in order to break out and win back the heart of Philip Morris (Ewan McGregor), with whom he fell in love during his first prison sentence.   
The scribes that brought you the twisted comedy "Bad Santa," Glenn Ficarra and John Requa co-direct and co-write this movie.  Requa and Ficarra base their screenplay on a book of the same name by author Steve McVicker.       
WHO SHOULD SEE IT:  Those who are not easily deterred by gay love stories on screen should see this movie.  If you are a big Jim Carrey fan, then you should check out his latest outrageous character in "I Love You Philip Morris."              
After an unexplained absence, Marcus (Anthony Mackie) returns in 1976 to his Philadelphia neighborhood, where he grew up during the Black Power movement.  Those around him suspicious of his disappearance, accuse him of orchestrating the murder of a Black Panther in his past, while his relationship with an old friend (Kerry Washington) intensifies.    
African American filmmaker Tanya Hamilton writes, directs, and produces her first feature length film with this period piece drama.         
WHO SHOULD SEE IT: History aficionados fascinated with the trials and tribulations that took place in the black community following the Civil Rights Movement should see this film.  If you prefer movies that take place during the 1970s then you should seek out "Night Catches Us."           
RARE EXPORTS: A CHRISTMAS TALE
An archaeological dig in Lapland's Korvatunturi Mountains uncovers Santa Claus buried there, but this is no jolly old St. Nick.  When children start disappearing, a father, son, and a pack of hunters take on the dangerous mission to catch Santa. 
Finnish director Jalmaria Helandar helms this foreign horror film.  Helandar pens the screenplay as well, drawing on a concept he developed with his brother Juuso.     
WHO SHOULD SEE IT: Horror junkies looking for something with a sense of humor should see this one.  If you have a special appreciation for Scandinavian horror like last year's "Dead Snow" then you should watch "Rare Exports: A Christmas Tale."   
A warrior-assassin (Jang Dong-gun) hides out on a small town in the American Badlands after refusing mission from his master.  When he decides to help the locals fight for freedom, this attracts the attention of his former cohorts, who descend on the town like an angry swarm. 
Newcomer Sngmoo Lee writes and directs this action epic that costars Kate Bosworth, Danny Huston, and Geoffrey Rush. 
WHO SHOULD SEE IT: Action movie devotees that love crazy sword fights and high flying acrobatics should check this one out.  If you like popcorn films that are more about visuals than a convincing story, you should view "The Warrior's Way."
Small-town detective Noah Cordin (Nick Stahl) labors to solve a child's murder that occurred during a burglary in his wealthy community.
Indie director Josh Sternfield writes and helms this small town crime drama starring Nick Stahl, Rachel Nichols, Kellan Lutz, Jonathan Tucker, James McCaffrey, and Norman Reedus. 
WHO SHOULD SEE IT: Independent film supporters will probably want seek this out wherever it is playing or to find it on demand.  If you have enjoyed Norman Reedus in this season of "The Walking Dead" and you think the rest of the cast is talented, then you should see "Meskada."