Trailer Talk: This Week In Movies - 'Battle: Los Angeles,' 'Jane Eyre' & More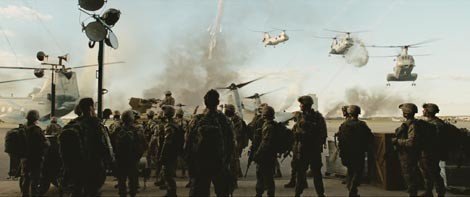 Last week I hit the movie theaters and I saw the drama "Jane Eyre" and the nerdy comedy "Paul," however due to my agreements with the studios involved I won't be able to discuss them until they are released.  Fortunately though "Jane Eyre" comes out this week and "Paul" comes out next week.
In addition to "Jane Eyre," this week you'll have the opportunity to see the alien invasion flick "Battle: Los Angeles," the Catherine Hardwicke thriller "Red Riding Hood,"  the animated adventure "Mars Needs Moms," the independent drama "Certified Copy," the medieval thriller "Black Death," and the action film "Kill the Irishman."     
BATTLE: LOS ANGELES
When a massive alien invasion threatens Earth, a Marine staff sergeant (Aaron Eckhardt) in Los Angeles leads his new platoon into battle against the enemy. 
Horror director Jonathan Liebesman, who made films like "The Killing Room" and "Darkness Falls," helms this sci-fi thriller.  Christopher Bertolini, the scribe for 1999's "The General's Daughter" pens the screenplay for the movie. 
WHO SHOULD SEE IT:  Alien invasion junkies should be first in line for this latest attack against the Earth.  If you like disaster stories where ordinary people are pushed to the extraordinary to save the human race then you should see "Battle: Los Angeles."       
JAYNE EYRE
A shy governess (Mia Wasikowska) goes to work at a quiet home in the country, where she develops a close relationship with her employer (Michael Fassbender).  What she does not know is that he's hiding a dark secret.     
Cary Fukunaga, the man behind the Spanish language film "Sin Nombre," directs this drama based on Charlotte Brontë's frequently adapted novel Jane Eyre.  Moira Buffini, the writer of 2010's "Tamara Drewe," adapts Brontë's book for the screen. 
WHO SHOULD SEE IT:  Anglophiles that appreciate stories set in England during the 1800s should see this drama.  If you love period piece stories and you love the novel on which this film is based, then you should see Cary Fukunaga's version of "Jane Eyre."     
RED RIDING HOOD
Valerie (Amanda Seyfried) is a young woman torn between two men; she is in love with a brooding outsider, but her parents want her to marry a wealthy man.  Before she can run away though, her sister is murdered by a werewolf.  Hungry for revenge, the villagers of her community summon a famous werewolf hunter, Father Solomon (Gary Oldman).  Solomon's arrival though only angers the creature, who continues killing people.
Catherine Hardwicke, the woman responsible for the first "Twilight" film, directs this dark thriller.  David Johnson, the writer for 2009's "Orphan," tackles the screenplay.    
WHO SHOULD SEE IT: Audiences that prefer the dark suspicion and paranoia of murder mysteries during medieval times should see this thriller.  If you enjoy Catherine Hardwicke's other films like "Thirteen" and "Lords of Dogtown," then you should watch "Red Riding Hood."            
MARS NEEDS MOMS
A young boy named Milo (voice of Seth Green) gains a deeper appreciation for his mom (voice of Joan Cusack) after Martians come to Earth and kidnap her.  Milo stows away on a Martian spacecraft so that he can mount a rescue mission.     
Simon Wells, the great-grandson of famous author H.G. Wells, directs this computer animated adventure.  He also collaborates with Wendy Wells on the screenplay, which is adapted from a novel by Berkeley Breathed.  Robert Zemeckis produces the film, implementing his famous motion capture style animation.      
WHO SHOULD SEE IT: Parents looking for a family friendly story to see with their children should see this movie.  If you like similarly animated films like "The Polar Express," then you should check out "Mars Needs Moms."       
CERTIFIED COPY
While in Tuscany to promote his latest book, a British author (William Shimell) meets a gallery owner (Juliette Binoche) who takes him on a countryside tour.  Along the way, they engage in a series of intimate conversations on love, life, and art.
Veteran Iranian filmmaker Abbas Kiarostami writes and directs this drama.  Interestingly Kiarostami's movie can be seen in three different languages: English, French, and Italian. 
WHO SHOULD SEE IT: Independent film fans should definitely see this IFC title.  If you appreciate the work of Kiarostami, then you should seek out "Certified Copy."    
BLACK DEATH
At the height of the Black Plague, a seasoned knight (Sean Bean) and a young monk (Eddie Redmayne) journey to a village in the country rumored to be untouched by the disease. 
Christopher Smith, director of the Irish horror film "Severance," helms this medieval horror movie. Dario Poloni, the scribe for 2006's "Wilderness," pens the screenplay. 
WHO SHOULD SEE IT: Viewers with a preference for dangerous quests fought by medieval soldiers should see this.  If you like stories that take place during the desperate times when Europeans were terrorized by the Black Plague, then you should see "Black Death."    
KILL THE IRISHMAN
In 1976, a turf war erupts between Irish mobster Danny Grenne (Ray Stevenson) and the Italian mafia in Cleveland, Ohio as Grenne makes a bid to assert his own dominance.
Action genre screenwriter Jonathan Hensleigh directs this mob movie.  Hensleigh also collaborates on the screenplay with first time writer Jeremy Walters.  Their screenplay is based on a book by Rick Porrello called To Kill An Irishman.  Supporting cast members in the film include Vincent D'Onofrio, Val Kilmer, Christopher Walken, Vinnie Jones, and Paul Sorvino.
WHO SHOULD SEE IT: Action movie lovers should get a kick out of this film about the Irish and Italian mobs duking it out.  If you can't get enough of Christopher Walken as a gangster then you should see "Kill the Irishman."