Trailer Talk: This Week In Movies - 'American Reunion,' 'Damsels In Distress,' & More
In addition to interviewing Fran Kranz and Kristen Connolly from "The Cabin in the Woods" last week, I also spoke with author Dana Fredsti about her new zombie book Plague Town, which comes out on Tuesday.  We talked about her book, her connection to the cult classic "Army of Darkness," and about this season of "The Walking Dead."  If you haven't seen my interview yet, definitely check it out.    
This week you'll have the opportunity to see the "American Pie" gang back together again in "American Reunion," the college comedy "Damsels in Distress," the Morgan Spurlock documentary "Comic-Con Episode IV: A Fan's Hope," the Willem Dafoe adventure film "Hunter," and the horror thriller "ATM."   
MY PICK FOR THE WEEK: American Reunion
*I know that James Cameron's "Titanic" is being re-released in 3D this week, but like "Star Wars Episode I: The Phantom Menace," I won't discuss it in favor only of new releases.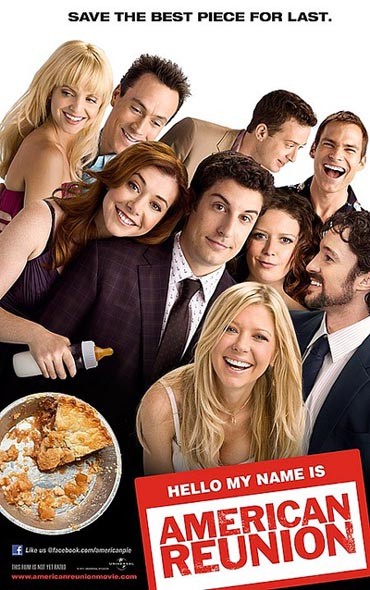 The original "American Pie" gang returns for the weekend to East Great Falls Michigan to attend their high school reunion, where comical shenanigans ensue as they all get caught up.    
Co-Directors/Writers: Jon Hurwitz and Hayden Schlossberg ("Harold and Kumar Go to White Castle," "Harold and Kumar Escape Guantanamo Bay")
Notable Actors: Jason Biggs, Alyson Hannigan, Seann William Scott, Chris Klein, Thomas Ian Nicholas, Tara Reid, Mena Suvari, Eddie Kaye Thomas, John Cho, Natasha Lyonne, Jennifer Coolidge, Eugene Levy
ORIGINALITY RATING: Low.  Since this is the fourth film of the main "American Pie" franchise, it doesn't gain many points for originality.  At least they stopped making those terrible looking spin-off movies similar to the "National Lampoon" label though.  The idea of bringing everyone back for a high school reunion is actually a pretty reason for a sequel and for some new ridiculous raunchy humor now that people are real adults.  There aren't any overwhelmingly funny lines in the trailer, but hopefully this one will be more hilarious than "American Wedding."                        
WHO SHOULD SEE IT: Followers of the "American Pie" franchise that are certain humorous situations will occur at this reunion.  If you appreciate raunchy comedy and you wouldn't mind Seann William Scott's a-hole alter ego Stifler, then you should watch "American Reunion."             
WHEN TO SEE IT: See it opening night.