Trailer Talk: This Week in Movies - 'A Very Harold & Kumar 3D Christmas,' 'Tower Heist' & More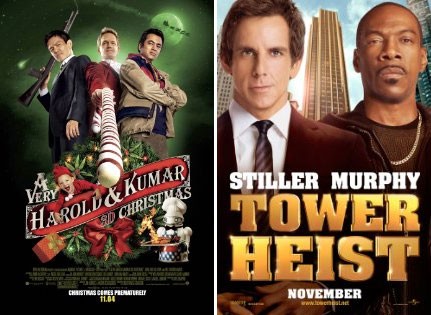 Last week I watched two classic horror movies: "The Thing" and "The Exorcist."  Watching John Carpenter's "The Thing," just further reminded me of how crappy the recent prequel was.   With its spooky score, good looking practical effects, and more fully formed characters, Carpenter's story is far superior.  If you were thinking about seeing the prequel, skip it, so you can stay in and watch Carpenter's version. 
Even though I didn't find myself grossed out by any of the nasty behavior of the possessed little girl (Linda Blair) in "The Exorcist," I really appreciated the eerie music, the spectacular character development, and the visual skill with which director William Friedkin tells this tale.  Friedkin reminds us that horror movies can be disgusting and freaky, but that the best ones also feature characters you can get invested in.     
This week promises two comedies and a crime thriller at the box office.  You'll have the chance to see the Cannabis comedy "A Very Harold & Kumar 3D Christmas," the lighthearted robbery romp "Tower Heist," and the cop drama "The Son of No One."          
MY PICK FOR THE WEEK: Tower Heist
A VERY HAROLD & KUMAR 3D CHRISTMAS
Set six years after their last adventure, stoner pals Harold Lee (John Cho) and Kumar Patel (Kal Penn) cause a holiday brawl by accidentally burning down the prized Christmas tree belonging to Harold's farther-in-law (Danny Trejo).      
Todd Strauss-Schulson makes his big screen directing debut with this silly comedy.  Jon Hurwitz and Hayden Schlossberg, the writing team behind the two previous films in the series, pen the screenplay.       
ORIGINALITY RATING: Low.  Our pals Harold and Kumar have toked up twice on screen before in their ridiculous adventures going to White Castle and escaping Guantanamo Bay.  Despite my love for these characters, I didn't care for the last film, so I'm having a hard time getting convinced this one will be more entertaining.  The only thing I am really looking for is more zany antics from everyone's favorite womanizer NPH (Neil Patrick Harris). 
WHO SHOULD SEE IT:  Fans of stoner comedies should be first in line to see this movie.  If you didn't like "Harold and Kumar Escape from Guantanamo Bay," but you're still willing to give them a shot in another zany adventure, then you should watch "A Very Harold & Kumar 3D Christmas."                      
WHEN TO SEE IT: Wait a week or two.  This is Christmas themed, so you probably want to wait until it is closer to get into the spirit. 
WHERE TO SEE IT: Your local multiplex.