Trailer Talk: Ridley Scott's 'Prometheus' Could Be This Summer's Next Big Blockbuster & More
MADAGASCAR 3: EUROPE'S MOST WANTED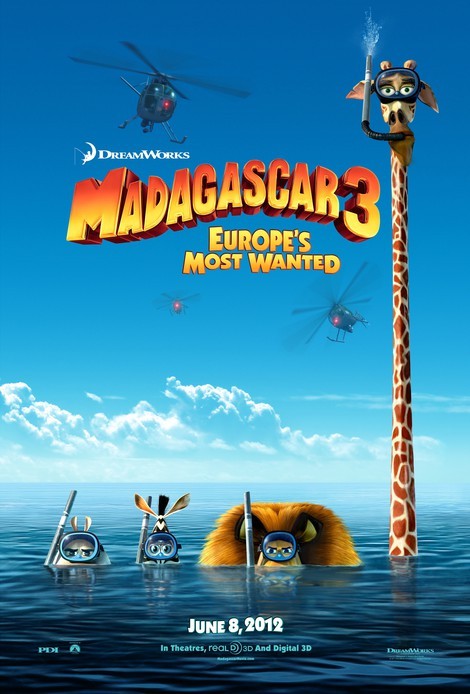 Alex, Marty, Gloria, and Melman are still trying to find their way home to the Big Apple. Their latest adventure takes them through Europe, where they find an excellent disguise: a traveling circus. Of course they reinvent the circus Madagascar style.  
Directors: "Monsters vs. Aliens" director Conrad Vernon joins Tom McGrath and Eric Darnell ("Madagascar," "Madagascar: Escape 2 Africa")
Co-Writers: Eric Darnell and Noah Baumbach ("Greenberg," "Fantastic Mr. Fox")
Notable Voice Actors: Ben Stiller, Chris Rock, Jada Pinkett Smith, David Schwimmer, Sacha Baron Cohen, Cedric the Entertainer, Andy Richter, Frances McDormand, Bryan Cranston, Martin Short, Jessica Chastain
ORIGINALITY RATING: Low. Aside from Pixar, a company that largely focuses on original stories, studios like 20th Century Fox and Dreamworks seem content to just churn out sequels to popular animated films every couple of years to make a quick buck. Who can blame them? They're easy for the actors to do and people keep going to see them, so the studios can get away with this lazy behavior. I wouldn't be surprised if there are at least one or two more "Madagascar" movies. Since the only time I laughed during this entire trailer was when Chris Rock's character was dressed as a clown and singing, I won't be seeing this one in the theater. Unless you're hard up for entertainment, you probably shouldn't either. Let's send the studios a message that we want to see more creative tales.  
WHO SHOULD SEE IT:  Parents looking for something family-friendly at the box office this weekend. If you can't get enough of these hilarious talking animals and their animated adventures, then you should watch "Madagascar 3: Europe's Most Wanted."                                                        
WHEN TO SEE IT: Wait for DVD.