Trailer Talk: 'Ice Age: Continental Drift,' 'Red Lights,' & 'Easy Money'
Last week I was on vacation, so I didn't get a chance to share with you my thoughts on "Ted" or "Magic Mike."
I laughed my ass off at Seth MacFarlane's directorial debut "Ted," which had the same hilarious humor as early "Family Guy." There are tons of great pop culture references and jokes that are edgy without being over-the-top. As a Boston resident I chuckled a lot at the local comedic bits, although I still thought there were plenty of laughs for non-Bostonians. There were a couple of odd elements in the story that I didn't feel were fleshed out or used to their fullest, but overall I enjoyed "Ted." My Grade: B+
On the other hand, I really didn't care for Steven Soderbergh's stripper flick "Magic Mike." I actually didn't mind seeing half-naked men or the ridiculous dance numbers. I was mostly bored by the weak characters and the meandering story. Steven Soderbergh at least deserves credit however, for making a visually impressive film. His crane shots really give the Tampa setting character and his filters perfectly frame the mood in specific scenes. My Grade: C-
This week you'll have the chance to see the animated adventure "Ice Age: Continental Drift," but I think the more interesting movies are the supernatural thriller "Red Lights" and the Swedish crime thriller "Easy Money."
MY PICKS FOR THE WEEK: "Red Lights" and "Easy Money."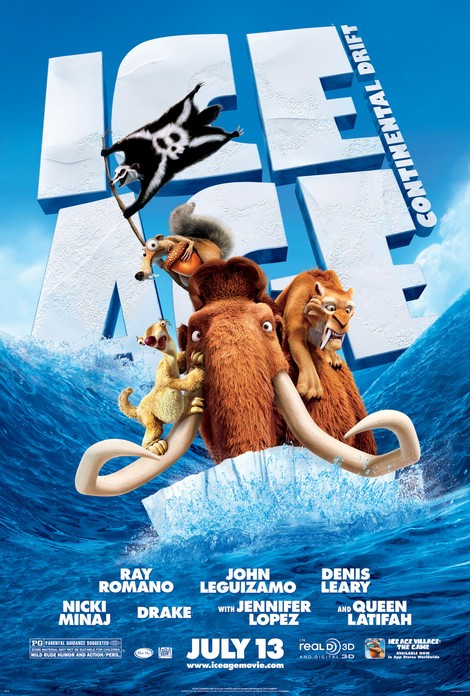 Scrat's (Chris Wedge) quest for the cursed acorn has earth-shattering consequences after a continental catastrophe that creates a wild adventure for Manny, Diego and Sid (Ray Romano, Denis Leary, and John Leguizamo). During these hijinks, Sid reunites with his crabby Granny (Wanda Sykes), and the group encounters dastardly pirates who are determined to stop them from returning home.
Co-Directors: Steve Martino ("Horton Hears a Who!") and Mike Thurmeier ("Ice Age: Dawn of the Dinosaurs")
Writer: Michael Berg ("Ice Age," "Ice Age: Dawn of the Dinosaurs") and newcomer Jason Fuchs
Notable Voice Actors: Patrick Stewart, Simon Pegg, Nick Frost, Seann William Scott, Alan Tudyk, Peter Dinklage, Aziz Ansari, Queen Latifah, Drake, Jennifer Lopez, Nicki Minaj
ORIGINALITY RATING: Low. I can't believe that the "Ice Age" series is already on its fourth film. The worst part is that the franchise shows no signs of slowing. It's obvious that Fox keeps pumping them out because they're cheap and they're guaranteed moneymaking vehicles, but it's pretty sad when even one of its stars is cracking jokes about how many there are. On The Daily Show with Jon Stewart recently, Denis Leary referred to this one as "Ice Age 12." The humor in this trailer seems largely on par with the previous flicks, so the only marginally interesting thing about this animated adventure is the gang's run in with a wacky gang of pirates. If this film turns out to be good, we can only hope that Fox stops making them before they start boring audiences.              
WHO SHOULD SEE IT: Parents looking for a movie that's family-friendly this weekend. If you aren't bored with the "Ice Age" franchise yet, then you should watch "Ice Age: Continental Drift."