Trailer Talk: 'Brave,' 'Seeking a Friend for the End of the World,' & 'Abraham Lincoln: Vampire Hunter'
ABRAHAM LINCOLN: VAMPIRE HUNTER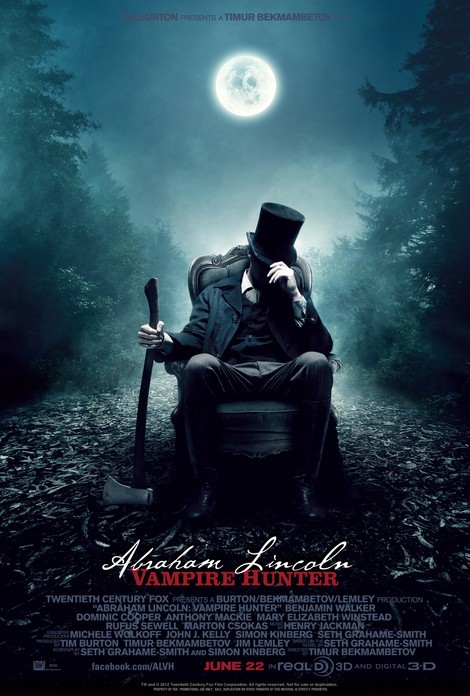 President Abraham Lincoln (Benjamin Walker) learns that evil vampires are planning to take over the United States, so he launches a secret war to eliminate them.     
Director: Timur Bekmambetov ("Wanted")
Writer: Seth Grahame-Smith ("Dark Shadows")
Based On: Seth Grahame-Smith's novel
Notable Supporting Actors: Dominic Cooper, Anthony Mackie, Mary Elizabeth Winstead, Rufus Sewell
ORIGINALITY RATING: Medium. If "Blade" took place during the Civil War, it might look something like this film. Based on its trailer, the movie seems stylistically similar to Timur Bekmambetov's last Hollywood flick "Wanted." There are epic shots of people staring down the barrel of Lincoln's gun and all kinds of crazy acrobatics. Lincoln whirls his axe with great ease and kicks tons of asses. His brooding narration only adds to the hilarity. I love the concept for this silly genre mashup and I think the movie has tons of potential, though I worry about it being a bit of a bust like "Jonah Hex." Hopefully it will be more like a vampire hunting version of "Wanted," which I loved.       
WHO SHOULD SEE IT:  People who like Weird West genre films in the vein of "Wild Wild West" and "Jonah Hex."  If you thoroughly enjoyed Seth Grahame Smith's book and you're excited to see its big screen adaptation, then you should catch "Abraham Lincoln: Vampire Hunter."