Trailer Talk: 'Brave,' 'Seeking a Friend for the End of the World,' & 'Abraham Lincoln: Vampire Hunter'
Last week I was pretty busy watching movies. I saw Adam Shankman's musical "Rock of Ages," Colin Trevorrow's dramedy "Safety Not Guaranteed," and Ridley Scott's sci-fi/horror flick "Prometheus." I largely thought Tom Cruise's robotic performance ruined "Rock of Ages," and "Safety Not Guaranteed" was enjoyable, but only when it stuck to the time travel elements in its story. For more of my thoughts on those two films, check out my reviews.
Although I didn't love Ridley Scott's "Prometheus," I didn't exactly hate it either. The special effects are superb and there are a few truly horrifying horror scenes. As a kind of prequel to "Alien" it thankfully answers a lot of questions raised by its predecessor. It also introduces some nasty new life forms. My biggest problems were with the story and the characters. Things turn out rather predictably and I didn't really get into any of the characters, except Michael Fassbender's android David. He is delightfully creepy and evil. My Grade: B
This week I'm going to try out a new format for the Trailer Talk column. Instead of talking about every film coming out, I'm just going to boil down our list to the ones I think should be seen in theaters. Then I will critique their trailers.
MY PICKS FOR THE WEEK: "Brave," "Seeking a Friend for the End of the World," and "Abraham Lincoln: Vampire Hunter."
*Look out for my review of "Seeking a Friend for the End of the World" later this week.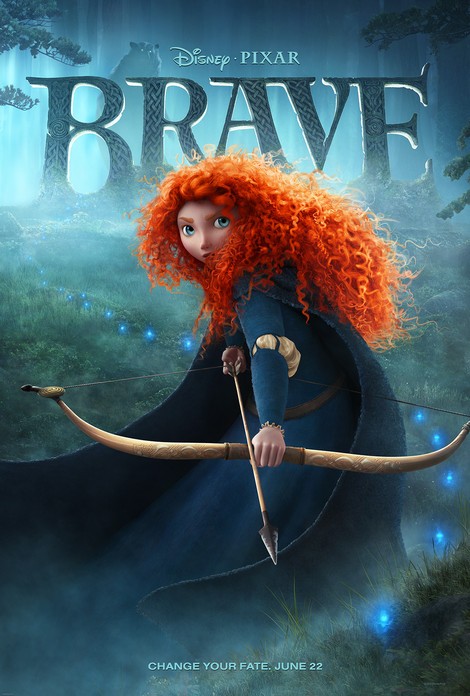 Determined to carve out a unique path in life, Princess Merida (Kelly Macdonald) defies an important custom which causes chaos throughout her kingdom. Merida must rely on her bravery and her archery skills to undo a terrible curse.
Co-Directors: Mark Andrews ("John Carter"), Brenda Chapman ("Cars"), and Steve Purcell ("Cars")
Co-Writers: Andrews, Chapman, Purcell, and Irene Mecchi ("The Lion King")
Notable Voice Actors: Billy Connolly, Emma Thompson, Julie Walters, Robbie Coltrane, Craig Ferguson, John Ratzenberger
ORIGINALITY RATING: Medium. This Pixar tale seems like a mixture of "Robin Hood," "The Little Mermaid," and a family-friendly "Braveheart." The girl's archery skills are reminiscent of Robin Hood's, her problematic wish is like Ariel's human transformation, and the goofy Scottish elements such as lifting up kilts remind me of Mel Gibson's film. I'm happy to see Billy Connolly in a large role as Merida's father since he cracks me up. Plus I tend to love Pixar's well-developed character arcs. I am slightly wary of this movie however since it seems to have an old-school Disney princess vibe that doesn't fit Pixar's normal style. Perhaps it will transcend that model to something greater with their involvement.    
WHO SHOULD SEE IT: Pixar lovers who enjoy every single adventure by the animation studio. If you're a parent looking for something with a strong plot and humor that both you and your kids can enjoy, you should see "Brave."