Trailer Preview: Three New Movies To Be Excited About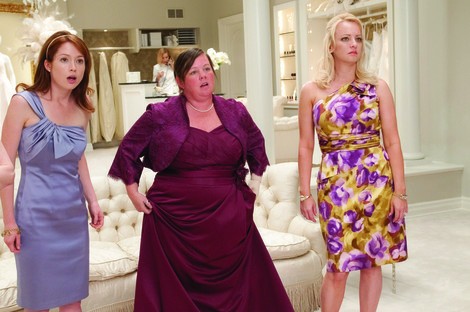 I confess that I am one of those people who have to see the previews when I go to the movies.  Trailers, persuasively edited, teasers for upcoming films, are designed to seduce and entice with flashes of movies' brilliance set to powerful scores.  They are movies at their absolute best.  While I am a sucker for them, I'm blessed with the gift of knowing if I'm going to love or hate a movie solely on those two-minute gems.  Being a trailer whisperer won't bring in the big bucks, but it helps me avoid paying for bad movies that will be on DVD in a couple months.  Thanks to my skills, I didn't get stung by The Green Hornet.  Did you? 
I know that with great power comes great responsibility, so I will use my powers for good.  Here are three upcoming movies I'm so excited about based solely on the trailers.  Watch and judge for yourself.
Bridesmaids; May 13 
CAST: Kristen Wiig, Maya Rudolph, Rose Byrne and Melissa McCarthy lead an all female cast.
Just when I thought the market was already saturated with wedding-centered chick flicks, uproarious 'SNL' alums Kristen Wiig and Maya Rudolph unveil theirs.  Annie and Lillian (Wiig and Rudolph respectively) are sisters in singlehood until Lillian gets engaged to Mr. Right.  Annie swallows her jealous insecurities about her own love life with copious cocktails, and bravely attempts to be the best maid of honor she can and the leader of a motley crew of bridesmaids, including "Damages'" Rose Byrne and "Mike and Molly's" fabulous Melissa McCarthy.
While watching the trailer, I was immediately refreshed to see that Wiig and Rudolph's characters look like real women.  There is not one frame in which the BFFs struts metropolitan streets in six-inch stilettos, pencil skirts and perfect hair, and I love them for it.  Wiig lends her comedic genius to the hilariously gross scene that sold me on the film:  the girls get food poisoning during their dress-fitting.  That alone has to be worth the price of admission.
Crazy, Stupid, Love; July 29
CAST:  The cast of Steve Carell, Ryan Gosling, Julianne Moore, Emma Stone, Marisa Tomei and Kevin Bacon couldn't be more winning. 
I love movies that take a classic story and give it an audacious twist, and this movie could be a little edgier than the age-old "boy loses girl."  After his wife (Moore) confesses that she was unfaithful, Cal (Carell) literally throws himself out of the car.  And thus begins the heartwarming, laugh-inducing, swoon-worthy trailer for this romantic dramedy where Steve Carell brings his awkward everyman brand of humor to big issues: divorce, infidelity, love and fatherhood.  Gosling brings his abs, Snooki's spray tan and addictive charisma. 
Jacob (Gosling) is a suit-clad player, who is sexy enough to pull it off yet endearing enough to not come off as a pig.  Cal needs help winning his wife back while Jacob might actually be falling in love.  They form an odd coupling in a movie that hopefully is as romantic, funny and poignant as the trailer is.  I was overjoyed by the complicated blend of sincere emotion with creative comedy, and I predict it will be one of the best romantic films of the year thus far when it is released on July 29.
Warrior; Sep 9 
CAST: Joel Edgerton, Tom Hardy, Nick Nolte round out a manly and intriguing cast. 
I like drama as much as the next girl.  I love my drama with a side of beefed-up Mixed Martial Arts fighters, and a healthy Nick Nolte.  In this Rocky and The Fighter hybrid, estranged brothers enter a MMA tournament with a life-saving payout and eventually battle each other in for the championship.  Joel Edgerton plays a teacher and the kind of dad who plays princess with his little girls, complete with pink paint and frilly costumes.  Inception's Tom Hardy, in jaw-dropping heavyweight shape, is a war hero with his recovering-alcoholic father as his trainer.  Who do you want to win?  It's not an easy choice as there's not a bad brother here.   
I covet the dysfunction as much as the physical action. With The Fighter's spirit and the bloodier fights, Warrior could easily be this fall's knockout.