Trail Of Odd Tweets Hinting At Demi Moore-Ashton Kutcher Divorce?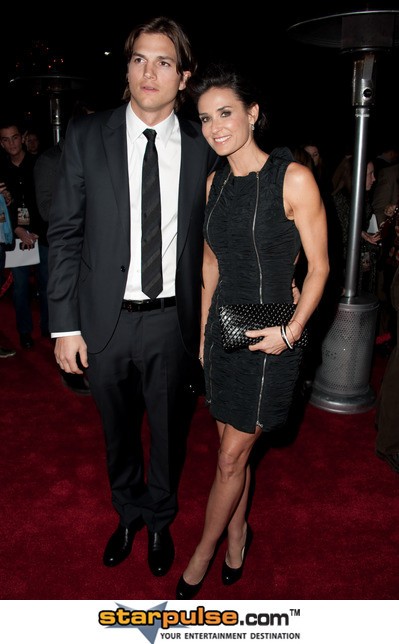 If you share your public life on Twitter and happen to be a celebrity, everything you post is going to be looked at under a microscope. So when Demi Moore began a string of odd tweets, many rumor outlets are now wondering aloud if she and Ashton Kutcher are headed towards a break up.
About a week ago Demi posted, "When we are offended at any man's fault, turn to yourself and study your own failings. Then you will forget your anger." It's a quote from Epictetus, so by its own it is relatively harmless. 
Three days later, however, Demi shared a photo of herself looking distraught with the caption "I can see through you." Um, ok?
To make it worse, earlier in the month she added cryptic notes "trying to find the light I lost" and "Remember...you've got your own back."
To us, it sounds like Demi is going through a dark time in her life. Perhaps it is due to the fact that she is promoting a Lifetime series about breast cancer titled "Five," of which she directed a portion. Even discussing cancer can be difficult for many - and it's probable that Demi met many women dealing with breast cancer while working on the series.
But with reported infidelities and the New York Post saying the marriage is basically over, perhaps Demi's apparent depression is coming from her marital woes.
As if that weren't enough, the producers of Two and a Half Men are very unhappy with Ashton Kutcher after he snuck in a laptop to use as a prop on the show - and plastered it with stickers from companies he invests in. 
"Very cool - @aplusk shows off @thehipmunk @chegg @foursquare @groupme stickers on Two and a Half Men PIC from @dens," tweeted Foursquare CEO Dennis Crowley.
The Hollywood Reporter claims CBS plans on blurring out the stickers on feature broadcasts... and may ask the companies for an advertising fee! A representative of the company said it is CBS' policy to "disclose any financial interests, such as Kutcher's, at the end of the broadcast."