Tracy Morgan Wants To Take Part In Gay Rights Rally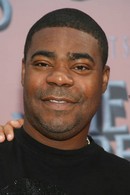 Controversial comedian Tracy Morgan is urging gay rights leaders to invite him to a pride rally, so he can prove he's truly sorry for his recent homophobic remarks.

The 30 Rock star hit the headlines last week after making a series of offensive comments about homosexuality during a stand-up show in Nashville, Tennessee.

He has since apologized for the scandal, admitting he went "too far" and insisting his choice of words were "not funny in any context."

A host of Morgan's TV co-stars have since come forward to condemn his actions, including Cheyenne Jackson, Margaret Cho and 30 Rock creator and colleague Tina Fey, but the actor is adamant he meant no real harm.

In an interview with rap mogul Russell Simmons' blog GlobalGrind.com, he says, "I guess the reason I am successful is because I am so unfiltered. And sometimes as a result I say really stupid s**t...

"I am deeply sorry for the comments I made. What I am most sad about is the comments I made about kids and bullying. I would never want any young person to think that I wasn't on their side and if any young person thinks they can bully a young gay kid, come see me at 30 Rock... I would be happy to meet you...

"When all of this set in, I realized how hurtful my words were... In my heart, I know that the words I used are indefensible. I appreciate the love from my friends and fans, but I was wrong. Period."

And Morgan is keen to show his critics just how much he regrets his behavior - by asking equal rights activist Simmons to invite him to the next gay rights demonstration he's planing to urge U.S. politicians to legalize same-sex marriage.

He adds, "I believe everyone deserves the right to be happy and marry who they want to; gay, white, black, male or female. Let me know where the rally's at Russ. I'm there!"