Tracy Morgan Cheers Up Patriots Fans With Airport Comedy Routine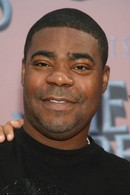 Funnyman Tracy Morgan cheered up miserable New England Patriots fans on their way home from the Super Bowl by putting on an impromptu comedy show at Indianapolis Airport.

The 30 Rock star jetted out to Indianapolis, Indiana to see his favorite team, the New York Giants, emerge victorious over the Patriots in the big game on Sunday.
Morgan mingled with other traveling football fans on his way back to New York on Monday, and he burst into an impromptu stand-up set at the airport to keep their spirits up.

Curtis Sliwa, founder of the Guardian Angels charity, was among the crowd at the terminal and he tells New York Post gossip column Page Six, "I was waiting for the flight with a crowd of Giant celebrants and Patriots fans looking like the Grim Reaper was about to get them. Tracy... ran up and embraced me. We started talking... Then Tracy started doing stand-up for everyone in the terminal, and even the Patriots fans perked up."

"He was taking pictures with them, shaking hands, and saying, 'Great game. You should be proud.' Tracy was like a king in his court - he had everyone's attention."

Morgan even continued his routine after boarding his fight to New York. Sliwa adds, "I was sitting in steerage, Tracy was in first-class... and you could hear him telling jokes... Everybody had a good belly laugh. It was the best comedy show I have seen for two reasons: I laughed hard, and I didn't have to pay for it."

The comedian says, "It all started at the food court. We were feeling so good. There was an amazing electricity. I was with my comrades and my Giants fans and my family. It was a star-studded flight."