Tracking Device Found On Katie Price's Car, Police Investigating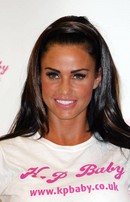 British TV personality Katie Price has turned to the police after discovering a mysterious tracking device planted in her car.

The former glamour model was horrified after mechanics found the Global Positioning System attached to the undercarriage of her Range Rover.
 
Price fears the gang which allegedly threatened to kidnap her earlier this year installed the gadget, and has alerted cops.
 
She tells Britain's Daily Mirror, "The garage had my car on a ramp during a routine MOT (car safety check) and spotted this tracker.
 
"The car was last serviced on August 16, so I know someone's been snooping around my property and shoved it on between then and now.
 
"Because I had a kidnap threat at the beginning of the year, we're wondering if it could be related. Basically it meant whoever planted it knew exactly where I was at all times and could then follow me, possibly with a view to kidnapping me. It's terrifying.
 
"Luckily the device had a security number, so the police are looking into that to see where it was bought and, hopefully, find out who's responsible."