Touring Moody Air Force Base With The Airmen From 'Inside Combat Rescue: The Last Stand'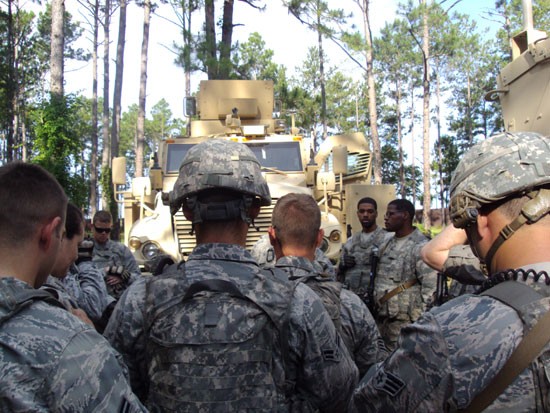 National Geographic's "Inside Combat Rescue: The Last Stand" features the elite Air Force unit known as the Reapers as well as the brave pararescuemen, called PJs, who help protect the lives of those stationed overseas. We got a chance to meet some of these brave men and women last week at Moody Air Force Base in Valdosta, Ga., and they gave us a tiny taste of what it feels like to be in combat.
During a particularly pleasant day for part of the country known for its hot and humid temperatures, a team from National Geographic and members of the press got down and dirty alongside the military to experience some of the training these servicemen and women undergo while preparing for deployment.
First on the agenda was a mock combat scenario in which a team of Reapers was dispatched to a Taliban village. A few of us rode along in a MRAP (Mine Resistant Ambush Protection) vehicle and learned firsthand how cramped and uncomfortable it can be traveling in these vehicles (there's a reason why helmets are required). It's also very difficult to see from the inside, and it clearly must be worse in actual combat.
We followed up with a Humvee rollover simulation, necessary to prepare airmen in case their vehicles are compromised during a mission. We all strapped on safety belts after putting on protective vests, helmets and elbow and knee pads. Styrofoam ammo boxes and other fake equipment were also included to simulate actual movement within the vehicle.  We then rocked to 30 degree angles (much steeper than you think) and rolled over 180 and 360 degrees as the Styrofoam boxes collided with us. We were forced to exit the vehicle upside down, and it's not hard to imagine how difficult it would be to escape at night with perhaps smoke and/or fire impeding the process.
Rambo takes down an insurgent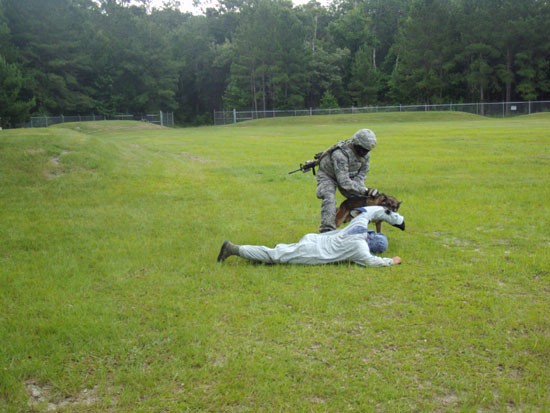 Next we watched a demonstration involving a Belgian Malinois named Rambo, who attacked an airman dressed as an insurgent. These animals are fiercely loyal to their handlers and able to reverse course with a single command. We watched as Rambo chased down one of the airmen but immediately ceased after his handler gave the order. Dogs are an alternative to using firearms in a combat situation. They are trained to attack the limbs and are meant to stop an aggressor, not kill him. We were able to dress in a special training jacket and feel the bite of one these highly intelligent and fierce animals as he clamped on to our arms.
We also had a chance to test our detection skills by looking for four hidden bombs on a make-shift trail. This included buried wiring. Members of our group set off several "bombs" in the process (indicated by an alarm), proving how difficult it is to recognize these types of threats.
Finally, we had a chance to dismantle a passenger car by using the Jaws of Life, sledge hammers and other tools to break windows, blow out tires and remove the roof. These skills are necessary in case a serviceman is trapped inside and needs to be extracted. We had time on our side, unlike the airmen who must perform the same task under more complicated circumstances.
Breaking down a passenger car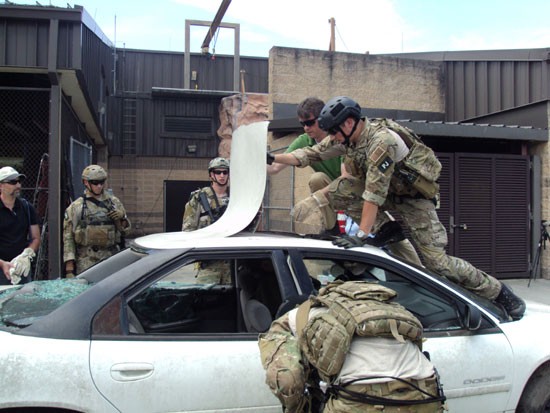 These heart-pumping exercises were followed by static demonstrations, including a high-tech dummy that medics use to practice various procedures.
Tonight's two-hour documentary "Inside Combat Rescue: The Last Stand" centers on the Reaper 5 team as they hunt down an elusive Taliban leader and the PJs who take care of the critically wounded who fall in combat. While we experienced just a little bit of what these men and women go through, it was an intense, action-packed day that demonstrated just how much work (and heart) these servicemen devote to protect the United States.
"Inside Combat Rescue: The Last Stand" premieres today at 9 p.m. ET/PT on the National Geographic Channel. Miss the first season of the series? Watch it all starting at 3 p.m.
Uncovering an improvised explosive device (IED) made from a tire