'Touch' Recap: '1+1=3' Is Wrong Math, But Great TV
It's been awhile since we saw the Touch pilot, but the show is finally here to stay and for my money, it's the best new show of this TV season.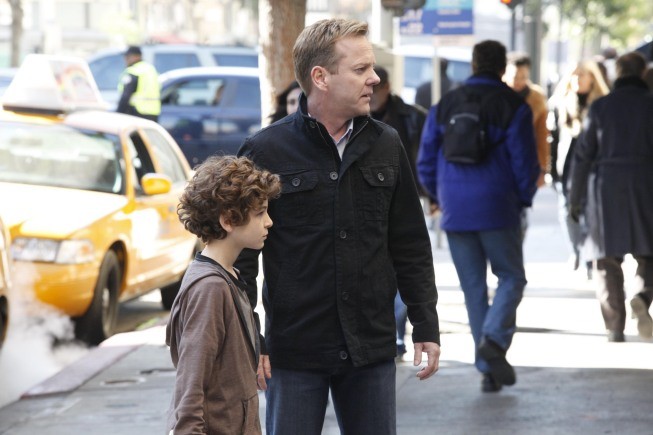 "I'm not taking him back there," Martin tells Clea when she shows up at his apartment, wanting to take Jake back to the boarding facility. It's the very next day after the events of the pilot, and Martin is insistent that his son is trying to communicate with him. Yet when Clea threatens to call the police, Martin reconsiders. Before he leaves, Jake writes the phone number to Arnie's Pawn Shop on his father's hand, the last four digits of which are 5296.
At the airport, a busy flight attendant trying to catch a plane bumps into a guy and causes his father's ashes to be scattered across the terminal floor. The flight attendant tells Martin that someone paid extra to have his dog hand-delivered in Moscow, but the dog escapes its carrier and takes off across the tarmac just moments later. Meanwhile, Clea catches Jake writing 5296 repeatedly, and wonders if it's another message. Jake then wanders off again and that's when Clea realizes 5296 is the security code for the boarding facility's front doors.
Martin visits the pawn shop, run by Arnie (that's another 24 alum, Jude Ciccolella, who played President Palmer's right-hand man Mike Novick), who thinks he's crazy. About two minutes later, a guy in a ski mask walks in and wants to rob the place. In a moment Jack Bauer would appreciate if not necessarily endorse, Martin tackles the would-be robber (former K-Ville regular Blake Shields), which doesn't go all that well. Arnie gets shot, and as Martin's still on the floor, the robber escapes with a baseball. This show seems to be going out of its way to help us debunk the Kiefer Sutherland-as-Jack Bauer perception. That's two episodes in a row he's gotten hurt.
Back at the airport, we meet two young Asian ladies arriving at JFK for a music festival. The flight attendant from earlier walks right by them, and goes to apologize to the guy she bumped into earlier. We find out that she missed her flight trying to find the dog, and she offers to go with him while he scatters what's left of his father's ashes...at a baseball stadium. Now it starts to come together...
Arnie doesn't want to go to the hospital, and doesn't want Martin anywhere near him. Confused by this turn of events, Martin goes to ask our old pal Arthur (Danny Glover) what it all means. We get the phrase "cosmic pain that has to be healed." Apparently, Jake sees such things as numbers, and has to follow them to wherever they lead. That's when Martin sees Jake on a passing bus, and their journey begins again.