Tori Spelling's New Reality Show Premieres Tonight On Great American Country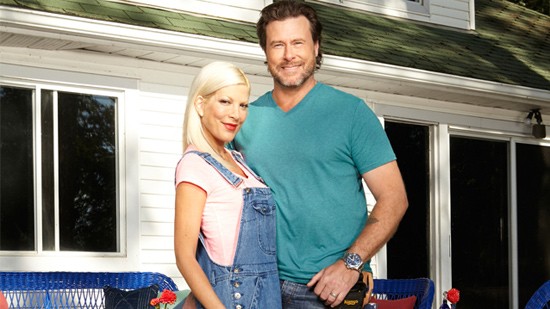 Tori Spelling, who documented her efforts to rebuild her marriage after her husband cheated on her in "True Tori," is starring in another reality show with Dean McDermott. But this time it's about home renovation, not personal problems.
The reality-renovation series "Tori & Dean: Cabin Fever" airs tonight at at 10/9c on Great American Country. The couple will renovate a lakeside cottage, all while living there with their four children – Liam, Stella, Hattie and Finn.
The actress's mother Candy and late TV mogul Aaron Spelling famously built one of the most extravagant homes in California. Now Tori is tackling her own renovation project.
Tori explained: "Everyone knows that my family built one of the biggest houses ever. Now that I am a wife and mother and have a family of my own, I want to build houses, but I want to jump in there and do it ourselves. I want us to create the home we live in."
The show will spotlight the family as they attempt to turn a run-down cabin into a stylish vacation home. They must deal with no indoor plumbing, outhouses, bugs and new neighbors.
"Renovating a home together can be one of the most demanding times a family can experience, and we get to see how Tori and Dean manage the stress," said Steven Lerner, senior vice president of programming and development for Great American Country.
Spelling currently stars in in "Mystery Girls" on ABC Family with her former "Beverly Hills, 90210" co-star Jennie Garth.