Tori Spelling's Husband Can't Afford A Vasectomy And She Hasn't Bought A Purse In 3 Years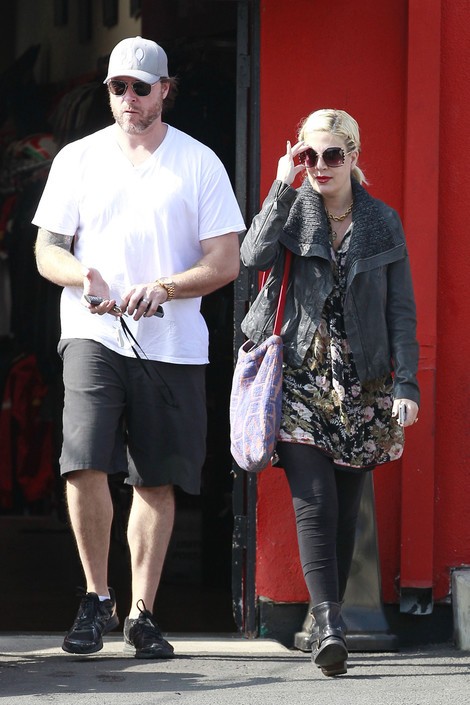 Tori Spelling's husband Dean McDermott has delayed plans to have a vasectomy because the couple is pinching pennies.
The pair, who have four children, downsized after the 2012 cancellation of their reality show "Tori & Dean: Home Sweet Hollywood." As a result of their current budget, McDermott is postponing a vasectomy, which prevents pregnancies and cost between $350 and $4,000.
However, Spelling insists they are hardly broke.
 
She explained, "We're in the entertainment business, and things change year to year. We don't have a series on the air right now, so we have to be more restrictive of what we can spend, just like anyone who doesn't currently have a steady job."
She told People magazine that she's teaching her son and daughters about repurposing, adding: "It's a really good value to have."
The lack of a regular paycheck has forced the actress to stop buying designer goods. She explained: "I haven't bought a purse in three years, and that's fine. I look back at that girl who shopped at Gucci in my 20s and I can't even relate. I can't believe I thought it was important."
Spelling's financial future is about to change. She and her former "Beverly Hills, 90210" co-star Jenni Garth star in the upcoming crime-fighting series "Mystery Girls," and if it's successful she'll be earning a regular salary.
"I work really hard and there are certain things I want to give my kids. Like a big kick-a** farm! We've had lows, but I set goals and I keep going. I always bank on myself," Spelling said.
The actress is the daughter of the late TV mogul Aaron Spelling and grew up in an enormous Los Angeles mansion.