Tori Spelling Says She Was 'Shocked' By Her Fourth Pregnancy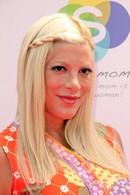 Tori Spelling's latest baby news came as a complete shock - the actress found out she was expecting while in an emergency room seeking treatment for a migraine.

The former Beverly Hills, 90210 star admits she scoffed when a nurse asked her to take a routine pregnancy test when she was admitted to the hospital with a crippling headache.

Spelling assured staff there was no way she could be pregnant - and was stunned when her results came back positive.
 
She tells Access Hollywood, "I had chronic migraines and I was in the emergency room getting treated for one of my migraines and when I got there they said, 'Before we can treat you, you have to do the pee in the cup.' And I said, 'Oh, don't worry I'm not pregnant. I just had a baby a month ago.' And they (said), 'Sorry, it's policy at the hospital.'

"So I did it, and they came back and said, 'You're pregnant!' And I said, 'That can't be!'"

However, Spelling insists she and her husband Dean McDermott, who welcomed their daughter Hattie last October, are thrilled to be adding a fourth kid to their brood later this year.

She adds, "Dean and I kind of sat there in shock for a while and then we said, 'Well, we wanted four!' This is when our miracle wanted to come... so we'll take it."

Spelling and McDermott are also parents to son Liam, five, and three-year-old daughter Stella.