Tori Spelling Says Publicity Prolonged Her Family Feud

Tori Spelling is convinced her long-time estrangement from her mother was prolonged by the publicity surrounding the feud, insisting the rift could have been healed sooner if they hadn't made their dispute public.

The reality TV star and her mom Candy spent three years apart following a disagreement around the death of TV mogul Aaron Spelling - the family patriarch - in 2006. The bitter feud was played out in the press as both women spoke out about their situation.
 
The Spellings finally put the spat behind them last year, rebuilding their broken relationship for the sake of Tori's children. And the former Beverly Hills, 90210 star is adamant they could have worked out their problems earlier if they had kept their disagreement private.

She tells Access Hollywood, "It was the whole realization of 'What happened between us?' and, 'Was there really anything major?' Or, 'Did the press really heighten it to a level where we thought we couldn't go back?'"

"That was a huge turning point for me when I realized I think that's what happened It really was about kind of saying, 'The past is the past. This is about my kids, her grandkids. It's all about Liam and Stella.' Because of that we have been able to move forward as a family and we're all together and it's been great."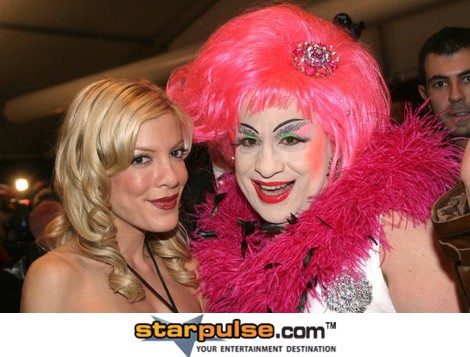 Click Here For More Tori Spelling Pictures