Tori Spelling Nearly Bled To Death During Fourth Pregnancy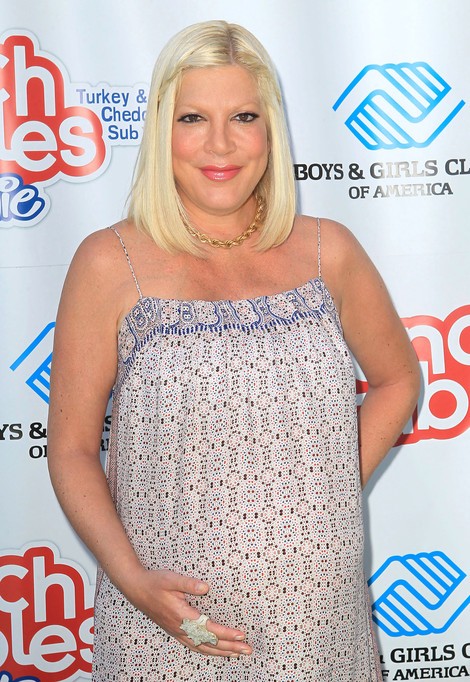 Tori Spelling nearly had to abort her fourth child in order to save her life, the actress has revealed.
Spelling got pregnant with son Finn just one month after giving birth to her third child. Eight weeks into her fourth pregnancy, she was diagnosed with a rare bleeding disorder.
She told Us Weekly magazine,  "I was getting a massage at home and I felt wetness. I looked down and saw blood. My heart dropped. I started screaming for (my husband) Dean (McDermott) and told him, 'I just had a miscarriage.' But the next day I went to the hospital and the doctor said everything was fine."
The bleeding episodes didn't stop, and she was diagnosed with placenta previa in which the placenta covers the cervix.
 
She explained, "My doctor kept telling me that at any point I could have a big bleed where they'd be forced to take me to surgery and deliver the baby. If that happened before 24 weeks, they said the baby wouldn't survive but they would do it to save my life. I was like, 'No! You have to save the baby!' He told me, 'You don't understand: If you lose enough blood, you could die...'
 
"It was so surreal. I just remember thinking, I can't leave three children behind... I kept thinking... 'Am I supposed to make videos for them? Should I write something down for them to have?'"
Spelling spent four months on bed rest to increase her chances of delivering a healthy baby. She gave birth to Finn on Aug. 30. "When he came out, I couldn't wait to have him in my arms," she added.
Unfortunately, three weeks later she was hospitalized again after her Cesarean section scar burst, causing massive blood loss. Rumors swirled that the actress' post-pregnancy hospitalization was for a tummy tuck.