Tori Spelling Made A Sex Tape, Starved Herself To Lose Baby Weight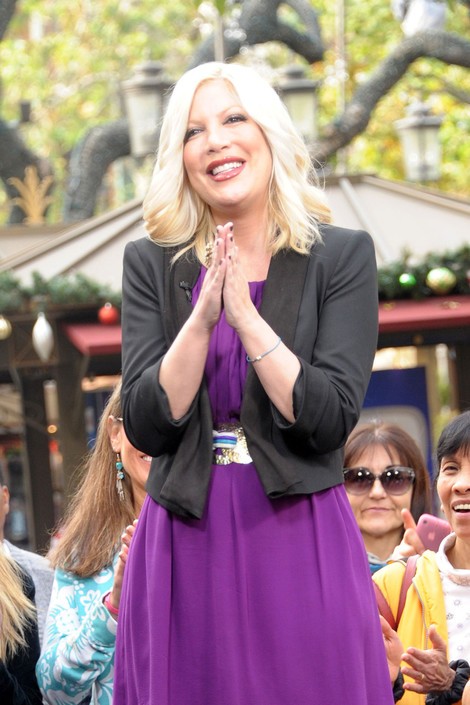 Tori Spelling admits in her new book that she and her husband Dean McDermott made a sex tape that nearly got released to the public.
In "Spelling It Like It Is," the actress says it was McDermott's idea to film themselves getting down and dirty, and she was actually happy with the end result. Only later did they realize they made a big mistake.
 
Spelling explained, "Dean said, 'We should tape ourselves having sex'. He had a little portable tripod, and he set up his video camera on it. Afterward, I checked my angles and they were good, so I allowed him to keep it. He uploaded it to our computer at home... without password protection."
One of McDermott's friends somehow got a hold of the tape a few years later and threatened to release it to the media. Fortunately, Spelling got a lawyer involved and took care of the situation.
"I was horrified, (but after we sent the letter from our lawyer) we never heard from him again, and the incident went away," Spelling said.
The actress also discusses how difficult it was to lose the post-baby weight after giving birth to her fourth child. In fact, she nearly starved herself - something she lied about to editors at Us Weekly.
"My publicist had given me clear instructions about what to say about my weight loss. Women didn't want to know that I had lost weight through dieting, not exercising. I didn't want to be the a--hole who didn't work for it. So I said that I swam. It was sort of a bad choice. I can't do much more than a doggy paddle," she said.
 
"I really don't exercise much, period. So I took off my weight the old-fashioned way. I like to call it the Just Keep Your F---ing Mouth Shut and Eat Air diet. It's all the rage."