Top Ten Prank TV Shows Ever In Honor Of April Fool's Day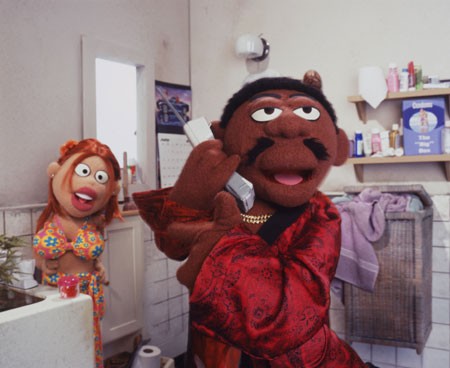 In honor of All Fool's Day, we've compiled a list of the ten best prank TV shows of all-time. If you're looking for some pranks or practical jokes to play on your friends this April Fool's, these TV shows will provide you with some great ideas. Here are the top ten prank TV shows ever:

10. Crank Yankers (Comedy Central, 2002-2005; MTV2, 2007)
Created by Jimmy Kimmel, Adam Carolla, and Daniel Kellison, Crank Yankers featured crazy puppets re-enacting actual prank phone calls turned into skits. Several comedians like Tracy Morgan, Sarah Silverman, and Jimmy Florentine lent their voices to puppets like Spoonie Luv, Hadassah Guberman, and Special Ed. If you like watching puppets and listening to crank calls, Crank Yankers is the perfect show for you.

9. Trigger Happy TV (Channel 4, 2000-2002, Comedy Central 2003)
Originally, Trigger Happy TV aired on the British Television network Channel 4 for two series. In 2003, Comedy Central aired an American version of the show with the main star of the British TV series, Dom Jolly making cameo appearances. The hidden camera comedy often featured Jolly answering a gigantic cell phone and repeatedly screaming "Hello" in  public places like a restaurant or library.

8. Fonejacker (Channel 4, 2006-present)
Another British prank TV show, Fonejacker features a masked man making prank phone calls to local businesses, sometimes right across the street from the phone booth. The masked man or Fonejacker is really British actor Kayvan Novak, who disguises his voice by speaking in different accents when he makes these crank calls. Re-runs of the show aired on Comedy Central.

7. The Jamie Kennedy Experiment (WB, 2002-2004)
Not many people remember the Jamie Kennedy Experiment, possibly because it aired on the WB. JKX was different from other prank TV shows because it was a combination of reality, sketch comedy and hidden camera pranks. Jamie Kennedy disguised himself as various characters to draw unsuspecting victims or "marks" into outrageous scenarios and situations. The show's most memorable character was a rapper who tried to convince people he grew up and struggled in the streets of Malibu.
6. The Tom Green Show (MTV, 1999-2001)
After a three year run on Canadian television, The Tom Green Show moved to MTV in 1999 and became a hit with young audiences. The show was hosted by Tom Green and co-hosted by his close friend Glenn Humplik. Tom Green would often go to segments showing himself performing outrageous stunts and practical jokes designed to pushed the buttons of his targets. There was one segment on the show where he interviewed people on the street with poop on the microphone.
5. Scare Tactics (Syfy, 2003-present)
If you've never seen Scare Tactics and don't know what the show is about, think Fear Factor meets Candid Camera. On the show, Unsuspecting victims are invited or led to a specific location by their friends, where they encounter a mass murderer or aliens. After all the screaming and begging for mercy, the horrified victims are told by the actors and their friends that it was all a hoax.
4. Da Ali G Show (HBO, 2003-2006)
Sacha Baron Cohen fooled many politicians and random guests with his three characters - Ali G, Borat, and Bruno on Da Ali G Show. If you've never seen the show, Ali G is a British talk show host who speaks Ebonics in a British accent. Then there's Borat who's from Kazakhstan and hates Jewish people. And finally, there's Bruno, the gay Austrian.
3. Punk'd (MTV, 2003-2007)
Created by Ashton Kutcher, Punk'd was a hidden camera prank TV show that targeted mainly celebrities. Celebrities who unfortunately ended up being Punk'd were Kanye West, Halle Berry, and Justin Timberlake, who almost broke down in tears after believing that his house was going to be repossessed by the IRS.

2. Just For Laughs Gags (CBS Television, The Comedy Network)
A Canadian hidden camera show that is similar to Candid Camera and plays pranks on unsuspecting people passing by on the street or in public places. The show plays background music and sound effects, but doesn't contain any sound or dialogue. The pranks often include actors playing police officers and surprising drivers and pedestrians with their erratic behavior.

1. Candid Camera (Syndicated, 1948-2004)
Candid Camera is the standard by which all hidden camera television shows are judged by. Allen Funt created and produced Candid Camera, which was known as Candid Microphone in 1948. The show played pranks on ordinary people and celebrities. After Allen Funt revealed to the victims that they were a part of a practical joke, they were told to "Smile, you're on Candid Camera." Peter Funt would replace his father and host the show beginning in the late eighties. Candid Camera has inspired prank TV shows like Punk'd, Boiling Point, and Scare Tactics.
Story by Maccorley Mathieu
Starpulse contributing writer