Top Ten Coolest Movie 'Car Chases'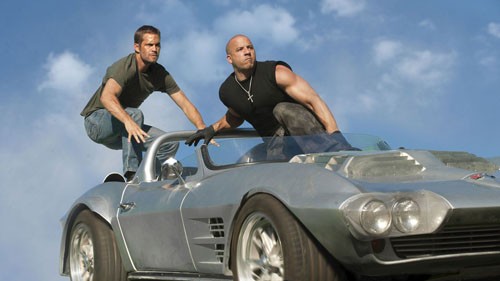 What really makes a memorable movie car chase?  Could it be speed, style, sass – or maybe all of the above?  The arrival of "Fast Five" (hitting theaters on April 29), which combines all the original Fast and Furious gang with some highly decked out new roadsters, has us at Starpulse revving our engines with nostalgia.  With so many seriously significant car sequences in cinema history, how do you choose what's really the best?  Well, the brain has been wracked and the result is a list (complete with visual aids!) of some of the most speedometer pushing, gas peddle slamming, tongue-in-cheek flying, attitude driven, unconventional auto pursuit scenes that finally justify the rising cost of fuel.  Turn the ignition and hit the gas four-wheel freaks, here's our list of Top Ten Coolest Movie 'Car Chases' – it's gonna be a bumpy ride!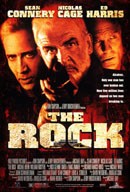 10. "The Rock" – San Francisco Street Chase
Okay, it's Michael Bay.  But this one was a tasty sequence that not only featured   quirky character moments from iconic actors like Sean Connery, William Forsythe and Nicolas Cage (in his first action flick!), but a barrage of campy cliches (must hit water bottle truck and big glass window!) and super hot cars (see Hummer and Ferrari!) that get totaled just for sheer adrenaline busting joy.  (Plus the underneath hero shot at the end on Cage, unlike the one in "Bad Boys," is played for comedy!)  Fun, fun, fun.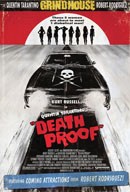 9. "Death Proof"  - Final Hood Chase
First off – anything involving Kurt Russell is automatically the epitome of cool.  As if the crash early on in Quentin Tarantino's grindhouse opus where Russell's Stuntman Mike and his black 1971 Chevy Nova literally skins the face off one gal wasn't enough, here comes a stunning final car scene that goes from bad (Zoe Bell on hood anyone?!) to worse ("You wanna get hot?!") to table-turning shocking (a little female vengeance does a body good!) – heel stomping road rage at its best.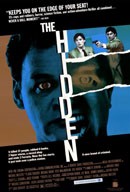 8. "The Hidden" – Opening Bank Heist Chase
Not your typical car chase with the usual frills and gags, this one hits the list due to a sheer abundance of mechanical mayhem with an attitude.  As the current human victim of the 'otherworldly' bug from hell, "Patti Rocks" alum Chris Mulkey not only hits everything from big moving glass (and the poor bastard holding it!) to unfortunate folks in wheelchairs with his music-blasting black Ferrari, but he sincerely enjoys it.  The driving instructor will see you now!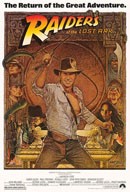 7. "Raiders of the Lost Ark" - Truck Chase
"Truck?  What truck?"  And so begins the road weary journey of Harrison's hero Indiana Jones and his long and arduous truck battle to obtain the Ark.  First on horseback, then the hood and finally being dragged behind like a fish on a hook, Indy goes through highway hell to get back what's rightfully his – and the hat still stays on and strong!
(Tribute video - not actual sequence!)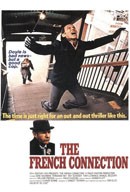 6. "The French Connection" – Elevated Train Chase
Along with "Bullitt" (which ultimately didn't make this list – sorry!), "The French Connection" is considered to be the birthplace of the greatest car chase ever made and for good reason.  But unlike McQueen's slow cat and mouse rendition, Director William Friedkin lets desperation fuel his frantic freeway.  Following a sniper who has taken a shot at him, Gene Hackman's weary cop Popeye Doyle follows underneath an elevated train with such fervor, focus and furiosity that one can't help but come along for the recklessly real ride.  It's vengeance on four wheels.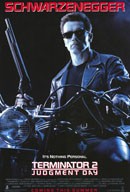 5. "Terminator 2: Judgment Day" – Water Duct Chase
What's so tasty about James Cameron as a director when it comes to action is what a fan he is of little things like car crash ambiance.  (Proof - look no further then the two cars that collide behind Arnold just for background art when he pulls out to join the pursuit!)  And it's that kind of attention to detail in previous works like the first "Terminator" and "Aliens" that makes Cameron's high-speed auto experiences so engaging.  But his Mona Lisa has to be the unforgettable chase that starts at a local mall, speeds into a water duct and ends with one of the most groundbreaking special effects reveals ever to hit the screen.  (Did I happen to mention that Arnold in hot pursuit swinging a shotgun does add a little something?!)  A dirt bike, a truck and a Harley Davidson – David, Goliath and one mean Fatboy riding Austrian.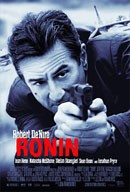 4. "Ronin" – Paris Street Chase
A fact already known by car Casanovas who love movie motos - nothing enhances a good out-of-control vehicle hunt like keeping focus on the things that matter.  For master filmmaker John Frankenheimer it was always two elements - the cars and their drivers.  Never was it more clear than the visceral scene in the 1998 film "Ronin," where manic man behind the wheel Robert De Niro and gun happy shotgun rider Jean 'Cleaner' Reno wild abandon all posted traffic laws (including the one about not going down a one-way street the wrong way!) and common speed limit sense to track femme fatale Natascha McElhone and her cronies through the streets of Paris.  The slow moving city of love gets a lesson in fast fender bender foreplay.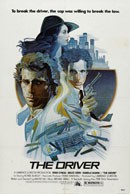 3. "The Driver" – Testing Scene
Any guy off the street can claim to be a master behind the wheel, but how does one really know if the candidate has the actual gas pushing goods?  How about a little pre-show action, as is the case with this little ditty from Walter Hill's already chocked full of amazing car chase scenes flick "The Driver."  Executed by stoic front man Ryan O'Neal (in the best performance of his career!), said driver speeds, stops on a dime, slams head first into walls and even skillfully strips off external parts of the vehicle piece by piece to prove a point already confirmed with the reputation that proceeds him as a man of few words.  "Get in" – you're the boss.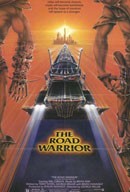 2. "The Road Warrior" – Final Desert Chase
A true movie no-brainer – does it really get any better then this?  (Okay, just with the one below!)  Director George Miller, coming off the effectively exploitation Aussie action yarn "Mad Max," seeks to outdo his previous hi-octane work and succeeds.  Forever copied and imitated a million times over, the images within have become film car chase legend.  The beaten Max helming the tanker, the bad guys hot on his heels, the feral kid hitching a ride and the man from the sky dropping slithering snakes.  "You wanna get out of here?  You talk to me."  Luckily for Miller and company talk is cheap.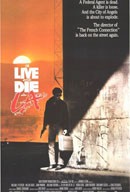 1. "To Live and Die in LA" – Best Car Chase EVER!
As the only director to grace this list twice, William Friedkin actually achieves the impossible.  Not only does he make one of the most influential car chases in film history (the previously mention French Connection), he then boldly tries his skilled hand at it again – and tops it.  Using everything from cars to trains to briefcase banging cement pillars and even a sweet trip down a one-way highway facing oncoming unsuspecting motorists (all to a pulsating score by 80's geniuses Wang Chung!), the filmmaker pulls out all the stops, leaves no stone unturned and goes balls out to make the most tense, heart-pounding, breathtaking, and all out astounding car chase sequences that is unmatched to this day.  Face it - Friedkin rules the freeway folks. 
(PART ONE!)
(PART TWO!)
And remember folks, "Fast Five" hits theaters April 29!