Top Ten Close Call Albums of 2009

Even though there were a lot of cant miss records that saw a 2009 release, there are those were good enough to warrant year end consideration, but not quite Top Ten material, thus the need for this list, Top Ten Close Calls of 2009. These records are good, obviously, or else they wouldn't get their own list. Even though they are in their article and on this list labeled as close calls, they are far from it really. It's not like there are a bunch of throwaway records on this list. The likes of Breaking Benjamin, Static-X and Paul Oakenfold grace this list, one full of ten records that will want to surely spend some time with.
So, here is my list of the Top Ten Close Calls of 2009, again, in no particular order.
Breaking Benjamin
-
Dear Agony
(Hollywood Records): You could make the argument that every release Breaking Benjamin sounds similar, but you could also make the argument that that's the band staying true to their original sound. Dear Agony holds true to that sentiment. The album is full of the bands firm grasp on modern nu-metal, and through such songs like "I Will Not Bow" and "Fade Away," and in typical BB fashion, they add another layer with heartfelt emotionally driven ballads, like "Anthem of the Angels" and "Dear Agony." The album is surefire success and nothing short of a homerun, but it is really that lack of a definable progression that lands them on the close call list, and not the best of list. Still, kudos to the band on another success.
Grade:
9/10
Listen to:
"Anthem of the Angels"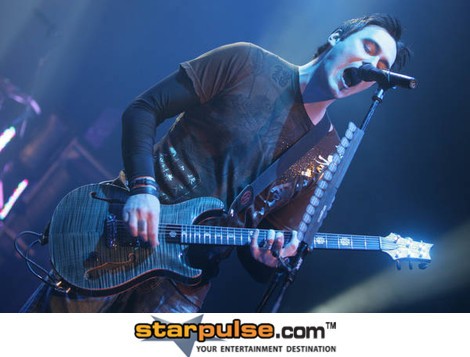 Image © Chris Schwegler / PR Photos
The Blackout
-
The Best In Town
(Epitaph Records): With the Best in Town, the Blackout surely have released one of the more powerful records thus far this year. The Merthyr Tydfil, Wales, United Kingdom group prove on their second release that the best screamo/post-hardcore bands might not reside in the United States. This is a frenzied work with a strong sense of urgency, full of whirling guitars, chugging breakdowns and cutting drum work. It's truly a spirited effort clocking in a shade over 30 minutes, proof positive that good things can come in small packages.
Grade:
9/10
Listen to:
"Children of Night"
Static-X
-
Cult of Static
(Warner Brothers) - Cult of Static is the bands best work since they released Machine, not only evidenced by the vast amount of rave reviews it has garnered, but because it charted at number 16 on the Billboard Top 200 chart. This is one of those rare sequel albums that actually is great standing alone and as another release from a band. It usually doesn't work out that way. Although this record runs into the normal problem albums have with slowing and fading towards the end, the front end of the record more than makes up for any of the back end's shortcomings. The band has readopted their old school songwriting approach and it shows through songs that sound as if the band wrote them a decade ago ("Terminal," "Hypure"). Listen, if you're like one of the many old school Static-X fans that have sort of written this band off as gone the way of the buffalo, think again, and do your best to give this album a shot. It will definitely surprise you.
Grade:
8.5/10
Listen to:
"Lunatic," "Terminal"
Parachute
- Losing Sleep (Mercury/Island Def Jam) - Losing Sleep is nothing short of wonderful, an album full of this years' best pop rock tracks to date. From start to finish, it's hard to find a noticeable blemish on this record. Parachute is a band that knows how to write a solid tune, from the catchy, infectious verses to the sky-high, sing-a-long choruses, these guys know what it takes to keep the listener entertained with their tight musicianship and superior musicality. Losing Sleep is the best album that Maroon 5 never wrote, and one doesn't have to look further than "She (For Liz)" to start the conversation of comparisons between the two bands. The scary thing is that Losing Sleep is only their first album. They should only get better from here and these guys have a lot in front of them.
Grade:
8/10
Listen to:
"She Is Love"
Paul Oakenfold
-
Perfecto Vegas
(Perfecto/Maverick Records): His latest opus is a return to form so to speak for the famed DJ, a movement back to his classic touches of progressive house and away from the trash/pop sound he has embraced lately. It hits on a variety of sounds under the electronica umbrella, and should satisfy the taste buds of fans of house, trance, progressive, club and acid house, leaving an enjoyable taste on the tongues of every listener. It's the type of record that while you're listening to it, if you're not moving with it, you have no heart - it's just that suggestive. It's as ambient and atmospheric as anything you'll hear being released today, leading most tracks to sound endearing and emotional. Oakenfold's knack for stunning experimentalism hasn't faded either, another running theme of this two hour (yes, two hours!), double disc effort. It is truly a dizzying sonic journey through enough deep trance to propel you right into the middle of the dance floor.
Grade:
8/10
Listen to:
"Fallen Angel's Symphony," "Becoming You"
Becoming the Archetype
-
Dichotomy
(Solid State Records): Through the use of immense, shredding guitars, vocals that tear and slash yet soothe and precise militant drumming, BTA achieve their penultimate sound. In their best work to date, BTA's 'Dichotomy' might be as close to 'Frail Words Collapse' as As I Lay Dying fans might ever get. With subtle piano interludes and Demon Hunter-esque breakdowns (DH's Ryan Clark guests on the title track), Dichotomy is one of the finest metal records released in recent memory. Crushing mosh-pit style breakdowns, steady underlying synth (ala Bleeding Through) and just enough clean singing make up a lot of the disc, just a few reasons why it'll go a long way to satisfy each and every metal fan. This record is a statement. Becoming the Archetype is here.
Grade:
8/10
Listen to:
"Artificial Immortality"
Street Sweeper Social Club
-
Street Sweeper Social Club
(Warner Music Group): It's pretty hard not to think of Rage Against the Machine when you hear Tom Morello's name or guitar licks. And while this eponymous release from his new venture with Boots Riley isn't quite RATM, some of it sounds like it ("100 Littler Curses," "Megablast"), some sounds closer to a Def Jam Poetry session ("The Oath," "The Squeeze") and some of it sounds just plain awesome ("Promenade," "Nobody Moves ("Til We Say Go)"). In all honesty, all RATM references aside, this album kicks serious ass. While they won't be winning any awards for Best Band Name anytime soon, Street Sweeper Social Club might find themselves on a few Best Of lists come years' end.
Grade:
8/10
Go Download:
"100 Little Curses"
Creed
-
Full Circle
(Wind-Up Records): Creed's fourth studio record to date, and first since their greatest hits release in 2004, Full Circle, has the band doing just that, coming full circle. It is their first studio album since 2001 and the bands Weathered release, and quite possibly is their finest record yet. It is their first record with Brian Marshall in nearly a decade and the fact that they brought in the rock know-it-all Howard Benson to produce just helped that much more. Sure, a lot of it is boring and utterly disposable, but there are enough good songs on here to warrant a listen. I'm assuming most people have written Creed off entirely by now, but their single "Overcome" is a great rock tune - there's no denying that.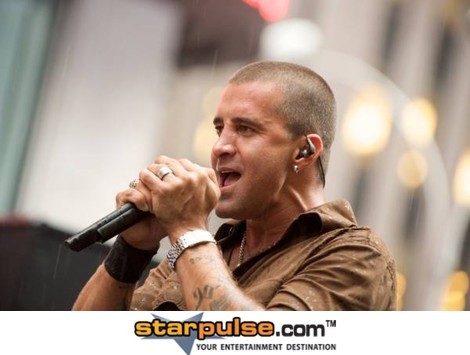 Image © Kent Miller / PR Photos
Grade:
7/10
Listen to:
"Overcome"
Dead by Sunrise
-
Out of Ashes
(Warner Bros. Records): Beyond the obvious reasons to continuously compare Linkin Park and Dead by Sunrise, Out of Ashes is a record that surely has the strength, and legs, to stand up on its own. There are a couple of pitfalls to keep in mind with this disc however. One, more than likely Dead by Sunrise is merely a side project, which is horrifically unfortunate because there is obvious potential here. And two, it would have been nice to see the band delve a bit deeper into electronics with Out of Ashes. You would think that any band that is mostly Julien-K would take more electronic chances, but it is what it is so to speak. The record doesn't simply fall short based solely on its lack of electronica. Album closer "Morning After" is as far as they go when it comes to that, and not only does the tracks driving force and pulsating rhythms make it memorable, they make for the track to be one of the records best. Out of Ashes is a tremendous first offering from Dead by Sunrise, and it would be just plain criminal is these guys didn't get a second chance to shine for us all.
Grade:
7/10
Listen to:
"Morning After"
Chevelle
-
Sci-Fi Crimes
(Epic Records) - Foreshadowing, by definition, is hinting at things to come, a tool often used in a literary sense when it comes to the analytical deconstruction of a story, but it's also something that can be used in a musical sense, for say, Chevelle's newest record Sci-Fi Crimes, their fifth studio album to date. By listening to merely the emotionally tempered purity of the opening chug of "Sleep Apnea," you can foreshadow that this record is going to be a journey - one without many breaks. Think of Sci-Fi Crimes as a track meet; excellent song after excellent song, each jocking for position, and before you know it, the race is over and you're left satisfied, yet thirsty for more, at which point you should just simply hit the repeat button.
Grade:
7/10
Listen to:
"This Circus"
Story by
Brian Campbell
Starpulse contributing writer