Top On-Set Celebrity Feuds

Hilary vs. Faye, Beyonce vs. Etta and Chris Brown vs. Decent Society: No doubt about it, the celebrity feud is alive and well. Though many celeb squabbles make for amusing gossip fodder, it's rare for public battles to result in real-life rows; except, of course, when volatile stars enact personal wars in the workplace. What do you get when you cross massive egos and crippling insecurities with bright klieg lights and tight shooting schedules? Ten of the juiciest on-set squabbles in Hollywood history, that's what. Lights, camera, altercation!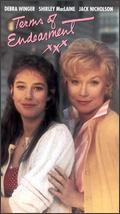 Debra Winger vs. Shirley MacLaine
--
Terms of Endearment
They may have played mother and daughter in the 1983 Oscar-winning weeper
Terms of Endearment
, but there was no love lost between stars Shirley MacLaine and Debra Winger. During filming, reports from the set detailed Winger's erratic behavior (allegedly do to cocaine use), including one incident wherein Winger lifted her skirt and passed gas in the general direction of Maclaine. Yes, you read right. Winger has since tried, albeit unconvincingly, to downplay the bygone bitchslapping: "There was no blood drawn. There might have been a scuffle. I don't remember. (Shirley) is not a wilting violet. She's tough, too." Whatever the truth, it was MacLaine who had the last laugh: At 1984's Academy Awards ceremony, after Shirley's name was announced as the winner of the coveted Best Actress Oscar (beating out Winger), MacLaine famously shouted, "I deserve this!" The notoriously difficult Winger also got what she deserved: A trip to rehab and a diminished career.

Shannen Doherty vs. Everyone she's ever worked with
Growing up in the business didn't make Hollywood wild child Shannen Doherty any more of a professional. She alienated the cast and crew of the original "
Beverly Hills 90210
" with her prima donna behavior, getting into a rumored fistfight with
Jennie Garth
and even feuding with cast mate - and real-life daughter of boss
Aaron Spelling
-
Tori Spelling
. You would think with her baggage, Shannen would "never work in this town again," yet in a scenario fit only for Tinsel town, Aaron Spelling had a change of heart (or a desire for press) and rehired the temperamental troublemaker years later for the WB series "
Charmed
." Doherty insisted she had reformed but it wasn't long before she clashed with costar
Alyssa Milano
and was fired once more. To ensure old Aaron didn't get sentimental again, producers killed off Doherty's character. Nowadays, you can catch Doherty in episodes of the revamped "
90210
." How does that old saying go: 'Fool me once shame on you, Fool me twice…'

Val Kilmer vs. Everyone he's ever worked with
The list of industry movers and shakers who have a beef with Val Kilmer is longer than the actor's 25 years worth of film credits. Refusing to rehearse, getting directors fired, not showing up to production sets for days on end: Kilmer's inflated ego and storied temper have become movie lore. "I have a reputation for being difficult," the actor has conceded. "But only with stupid people." Would he include film legend
Marlon Brando
in that category? Kilmer's unprofessional behavior on the set of
The Island of Dr. Moreau
(1996) prompted co-star Brando to famously tell him, "You are confusing your talent with the size of your paycheck." Need more proof the guy's a self-important jerk-face? Ask fellow actors (Kilmer refused to address
Red Planet
costar
Tom Sizemore
by name), film executives (an exec on the set of 1993's
The Real McCoy
claims Kilmer became enraged when a scene wasn't altered and fired his prop gun at a car) or crew members (Kilmer once used his lit cigarette to "accidentally" burn the face of a cameraman who pissed him off). Still not convinced? According to director
Joel Schumacher
, on the set of 1995's
Batman Forever
he and Val Kilmer ''had a physical pushing match. He was being irrational and ballistic with the first AD, the cameraman, the costume people. He was badly behaved, rude and inappropriate…We had two weeks where he did not speak to me, but it was bliss.'' Kilmer's career has since cooled off; the latest news is that he's contemplating a run for Governor of New Mexico. Hopefully, the people of that great state decide that having another egomaniacal blowhard join the political ranks is not the kind of change this country needs.
Suzanne Somers vs. John Ritter & Joyce Dewitt
- "
Three's Company
"
Her character Chrissy Snow may have been a naïve dingbat, but Suzanne Somers was anything but. Before the start of "Three's Company's" fifth season in 1980, the actress and her husband/business manager Alan Hamel attempted to parlay her popularity into a massive pay raise (from $30,000 per episode to $150,000) and 10% ownership of the show. Not only did the network balk, but the greedy move alienated the actress from costars John Ritter and Joyce DeWitt. Tensions only escalated when the too-big-for-her-britches Somers went on a strike in hopes of pushing execs to accept her terms. The plan backfired; once Somers returned to set, Ritter and DeWitt refused to work with her and wary producers banished the character to Fresno to care for her sick mother. For an entire season before her eventual firing, Somers was only seen by viewers in occasional scenes, calling to check in on her roommates from a phone booth. Talk about phoning in a performance!

Christian Bale vs. Shane Hurlbut
- Set of
Terminator Salvation: The Future Begins
If you haven't heard the now-infamous audio tape of Batman actor
Bale ripping the Director of Photography
a new one on the set of Terminator Salvation, you've been overseas, on the moon or under a rock! The backstory: In the middle of filming a pivotal scene, Bale became enraged when Hurlbut inadvertently walked into his sightline. What followed was four heated minutes, dozens of F-bombs (amid other profanities) and the leak of a tape that exposed Bale's lightening-rod temper to a disturbed public. Unavoidable on the internet and airwaves, the rant has been skewered by
late-night hosts and even made into a much-downloaded remix
. Bale has since apologized, telling KROQ disc jockeys, "I was out of order beyond belief. I acted like a punk. There is nobody who heard the tape who is hit harder than me. It is inexcusable." While those directly involved have put that day behind them, Bale's words are now an indelible part of pop culture. It may have just been a single on-set incident, but it's one for the ages.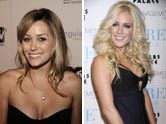 Lauren Conrad vs. Heidi Montag
- Set of "
The Hills
"
We know, we know: The "reality" of this water-cooler MTV series is questionable at best. The hit millennial docu-drama is, if not scripted, incredibly manipulated by producers. Despite its 'unreality,' we'd bet the farm that some of the drama is only too real. All the staged run-ins, trumped-up rumors and suggestive editing in the world couldn't create the true malevolence that 'Hills' stars Lauren 'LC' Conrad and former bff Heidi Montag have shared over the show's four season run. By all accounts, the bad blood began when Montag met Spencer Pratt, the kind of self-aware, caddish svengali that daddies warn about. Before long, the two besties bid one another tearful farewells as Montag moved in with Pratt (and lost whatever soul she had left). What should have been an indifferent relationship became a rivalry when Lauren suspected Pratt and Montag of circulating rumors Conrad had filmed a sex tape with an ex. To add insult to injury, the coupled-up publicity whores, now nicknamed 'Speidi,' went on their own media tour, bad-mouthing Lauren at every available opportunity and showing up wherever they could best antagonize other cast members. Before the summer 2007 episodes aired, a frustrated Conrad admitted, "I actually came dangerously close to not doing season three, because I really didn't want to do the show with Heidi and Spencer. I'm not who they are." Despite the ratings gold of broadcasting bitchery, MTV is now going a different route: A new trailer for upcoming fourth season 'bonus episodes' show Conrad and Montag hugging it out for the cameras. Yet, we don't believe the hype. Something tells us these back-stabbing blondes can make nice for reel, but being forever frenemies is ultimately what's real.
Rosie O'Donnell vs. Elisabeth Hasselbeck
- Set of "
The View
"
The irony: Rosie O'Donnell was hired to calm the waters that the contentious departure of
Star Jones
had roiled up at the ABC daytime chat show. However, it wasn't long before O'Donnell's pert opinions and forceful personality ruffled the feathers of conservative co-host Elisabeth Hasselbeck. The two managed an uneasy truce until May 23, 2007 when O'Donnell accused Hasselbeck of neglecting to defend her against right-wing media criticism.
A stunned studio audience, crew and guests - backstage, guest
Alicia Silverstone
was reportedly uncomfortable to tape her segment - watched the two tear into each other. The shout fest lasted 10 minutes and when the dust settled, O'Donnell asked the network to be released from her contract. O'Donnell maintained the final straw wasn't the disagreement itself, but producers' decision to heighten the drama by broadcasting the argument in split screen. Everyone has moved on from the dramatic eight months O'Donnell commandeered the show -
Whoopi Goldberg
is now the moderator - but what of the relationship between the two ladies? "I haven't spoken to her," O'Donnell has said, "And I probably won't.... I never tried harder to be friends with someone than I did with her. But I don't think we ever got there, or anywhere close."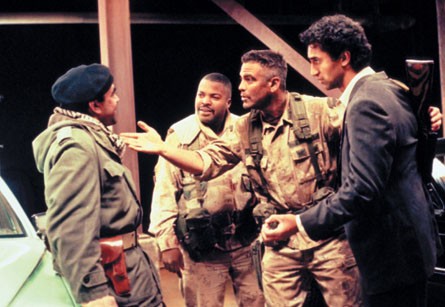 George Clooney vs. David O. Russell
- Set of
Three Kings
George Clooney has a reputation in Hollywood for being laid-back and well-liked. So what on earth could director David O. Russell have done to provoke Clooney into an exchange of heated words and a real-life round of fisticuffs? Let's start at the beginning: Weeks after the start of production on the 1999 Iraq War drama
Three Kings
, Clooney reportedly grew aggravated with Russell's erratic, improvised direction and a seeming disregard for the safety of cast and crew. Ever the gentleman, Clooney wrote Russell a letter voicing his concerns that went unheeded by the director. Tensions came to a boil when Clooney observed Russell manhandling an extra (Russell claimed he was merely demonstrating how the extra should throw actor Ice Cube to the ground). When Clooney confronted Russell, witnesses say the director let loose with a stream of expletives, including "You're being a dick. You want to hit me? You want to hit me? Come on, pussy, hit me!" Russell got what he asked for: Clooney belted him. After blowing off some steam, the two men brushed the desert dust off and got on with the business of filmmaking.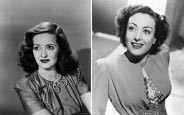 Joan Crawford vs. Bette Davis
- Set of
Whatever Happened to Baby Jane
?
Theirs was one of the most storied rivalries in the history of classic Hollywood. Joan Crawford, the reigning queen at MGM and Warner Bros. empress Bette Davis shared a public distaste for one another that lasted decades. "I wouldn't piss on (Crawford)," spat Bette Davis, "If she were on fire." Suffice to say when they finally starred opposite one another as sisters with a bitter, deadly relationship in 1962's
Whatever Happened to Baby Jane
, there was little acting necessary. Despite their personal rancor, the film was a massive hit, even earning Davis an Oscar nomination. Of course, Davis soon discovered that Crawford actively campaigned against her winning. Davis reciprocated by tormenting Crawford on the set of their next film,
Hush, Hush… Sweet Charlotte
. When Davis slyly installed a Coca-Cola machine on the set (Crawford's late husband was Alfred Steele, president of Pepsi Cola), Joan pulled out of the picture. Not even death could kill this feud: When news of Joan Crawford's 1977 passing reached Bette Davis, she declared, "There may be a heaven, but if Joan Crawford is there, I'm not going."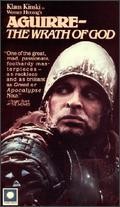 Werner Herzog vs. Klaus Kinski
- Set of
Aguirre, Wrath of God
So far, this list has contained tales of scuffles, skirmishes and sparring, but all of that is nothing compared to the murderous - yes, murderous - clashes between actor Klaus Kinski and director Werner Herzog. The two men - "friends" since adolescence - had an intense, volatile relationship that Herzog later chronicled in the 1999 documentary Mein Liebster Feind, Klaus Kinski (My Best Fiend, Klaus Kinski). The five collaborations of Kinski and Herzog are considered European masterpieces, but they came at a cost. After Kinski threatened to leave the set of 1972's Aguirre, the Wrath of God, Herzog pulled a gun on him. Lest you think Kinski was a hapless victim, consider: On the same set, aggravated by noise from a hut where the cast and crew were playing cards, Kinski fired three rifle shots, blowing off the top of an extra's finger. Seems the two men hadn't had enough and they dared to work together again in 1982 for a film called
Fitzcarraldo
. Production was fairly smooth... Oh, except for the night Herzog attempted to murder Kinski by setting fire to a house he slept in… Just another day at the office.
Any cinematic catfights I neglected to mention? Let me know in comments!
Story by
Shannon Peace
Starpulse contributing writer