'Top Gun' To Be Released On Blu-ray 3D February 19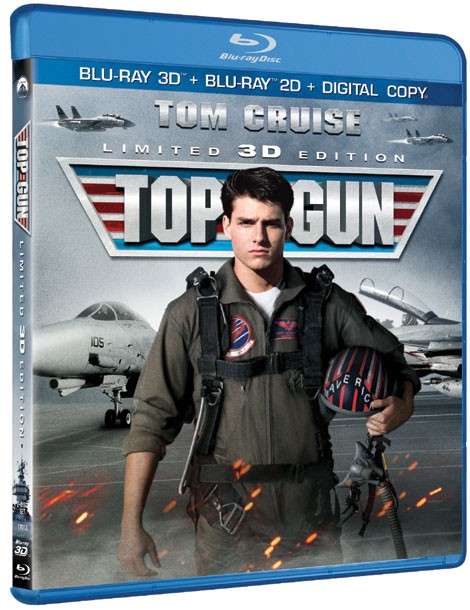 In "Top Gun," devil-may-care navy pilot Pete Mitchell (Tom Cruise) is sent to Miramar Naval Air Station for advanced training. Here he vies with Tom Kasansky (Val Kilmer) for the coveted "Top Gun" award. When not so occupied, Mitchell carries on a romance with civilian consultant Charlotte Blackwood (Kelly McGillis). Shaken up by the death of a friend, Mitchell loses the Top Gun honor to Kasansky. Worried that he may have lost his nerve, Mitchell is given a chance to redeem himself during a tense international crisis involving a crippled US vessel and a flock of predatory enemy planes.
The movie that helped define a generation prepares to soar into a new dimension as it makes its home entertainment debut in breathtaking 3D.  The action-packed drama will take audiences into the danger zone in a Blu-ray 3D/Blu-ray 2D two-disc set on February 19th from Paramount Home Media Distribution.  The release follows an exclusive six-day theatrical run in select IMAX® 3D theaters beginning on February 8th.

Top Gun was re-mastered from high resolution original negative scans and painstakingly converted to 3D by Legend3D under the supervision of the film's director, Tony Scott.  The artists at Legend3D began by studying every shot in the film and mapping out each element on screen in order to create a realistic sense of depth.  This process allows the artists to enhance the experience of each scene individually so that the appropriate elements are brought forward or back, depending on the scene.  Rendered in 3D, the film's complex, long shots reveal extraordinary depth and clarity, allowing viewers to explore every detail of the action.  From the spectacular aerial dogfights to the intense close-ups in the cockpits, each frame gives the audience the feeling of being part of the story.

The story of an elite group of pilots competing to be the best in their class and earn the title of
"Top Gun" captured the imagination of a generation and earned a worldwide box office of over $350 million upon its release in 1986.  Tom Cruise is superb as the cocky but talented pilot Maverick and Kelly McGillis sizzles as the civilian instructor who teaches him a few things you can't learn in a classroom.  Featuring a sensational soundtrack with unforgettable songs including Berlin's "Take My Breath Away" and Kenny Loggins' "Danger Zone", the film also stars Val Kilmer, Anthony Edwards and Meg Ryan.