'Top Gear's' Rutledge Wood on Season 3, US Versus UK and Adam Levine
As anyone who watches even a few minutes of
Top Gear
knows, the show is one-part love letter to cars and one-part absolute mayhem. Rather than just the good and bad of what's new on the market, you're liable to see breakdowns, wrecks and even things on fire as the hosts push vehicles to their absolute limits and take them into wild situations. The hosts are all a little bit crazy, and the producers are willing to risk the hosts' safety in the name of our entertainment.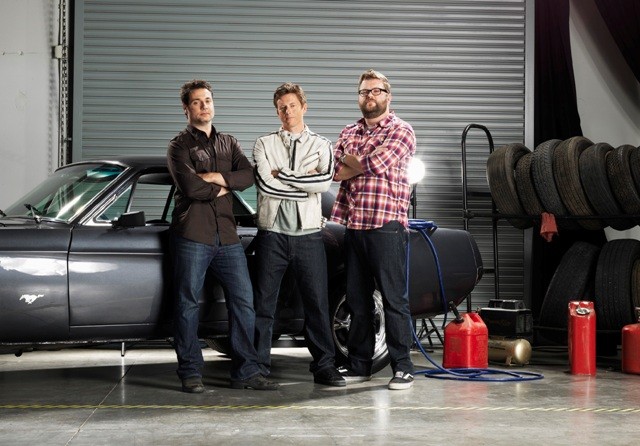 How much damage does Rutledge think they've caused in season three? He plays it coy. "I'll sum it up like this," he said. "Number one, you can't prove anything. Number two, when you take the Loss Damage Waiver for a rental car, it covers everything. Number three, see number one."
For all the things they've tried, though, he tells me there's one thing he'd never do: "Skydive. My ass isn't planning on jumping out of a perfectly good airplane," he insisted. "I can't think of a reason why they'd want me to skydive, but the moment they find out about a weakness, they explore it."
Like their British counterparts, it took the American Top Gear some time to find the right hosts. Only Tanner was part of the original NBC pilot for the show; Rutledge and Adam came aboard when History revived the concept. They seem an unlikely trio - Rutledge the big-hearted racing analyst, Adam the sharp-witted comedian and the slightly cocky professional racer Tanner - but over three seasons, they've found their chemistry and today the three of them work like a well-oiled machine, albeit a very competitive one. Now it's impossible to imagine any of them not being part of the show.
"Like any relationship, we've all grown closer together so we know more about each other," said Rutledge. "We have more fun each time we get to do something together, and we also know better what sets each of us off and drives us crazy. It's like being at camp every week - the producers put us through these insane challenges where we get pushed to our limits. Luckily, we all really like each other so it makes it that much more fun when we survive and can look back and laugh about it."
Given the lengthy history and huge popularity of the British version, the US Top Gear has had to exist in the long shadow of Jeremy Clarkson, James May and Richard Hammond. For what it's worth, Hammond has been complimentary of the American series, even if the fans haven't been. Die-hard supporters of TGUK couldn't help but compare TGUS to its much older, more established sibling from across the pond. Yet as Top Gear USA has found itself, Rutledge thinks that the fans are coming around to accepting the American edition on its own merits.
"For sure," he said. "I think it just took people some time to realize that we weren't trying to be the three hosts of the UK show, and that we were going to use the formula that they created to make a truly American version of the show. If you asked people who really understand the concept and how both shows work, they're usually quick to point out that the shows are totally different and that there's absolutely no reason that you can't love them both."