'Top Gear' (USA) Season 4 Roundtable: What's Next?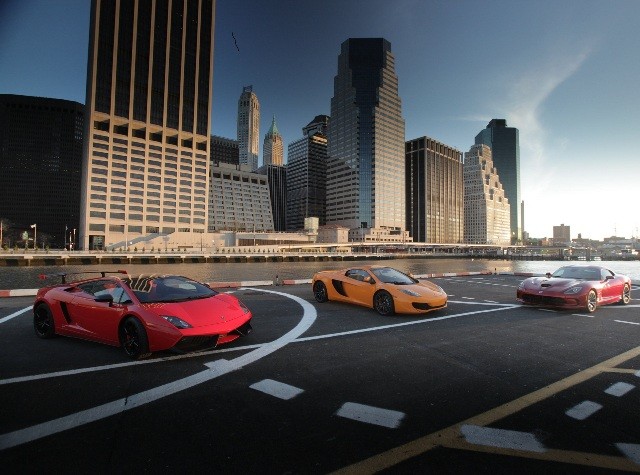 It's that time again: Top Gear USA is revving its engines, and we're going along for the ride. Last week BFTV snagged some face time with hosts Adam Ferrara, Rutledge Wood and Tanner Foust to find out what they could tell us about Season 4. Read on to discover what you can expect!
Tonight's premiere is called "Coast to Coast," so you can figure out the mission. But as always with Top Gear, it's less the destination and more the journey. What can we expect on the guys' cross-country adventure? "That was a really, really ambitious trip. We were flying across the country," said Rutledge.
"We got pulled over in Missouri, in the rain. Adam and I, at least, were very candid. The cop walked up to me and he said, 'What's going on?' and I answered, not trying to be a smarty-pants but very honestly, 'Oh, not much, what's up with you?' Adam just said, 'Yeah, you just want to talk to those people up front.  I'm really not your guy here.'"
"Yeah, go talk to the people with the English accent," Adam concurred, referring to the show's producers. "They know everything."
"The coolest thing for sure [was] when we shut down the Eisenhower Tunnel," Rutledge continued. "That's [in the] top ten coolest things I've ever done in my life."
"That was the highlight for me for sure," Tanner agreed, giving us a little background on what made the experience so memorable. "[It's] been around for forty years; [it was] built in 1973.  It's like one of the busiest tunnels in the country, and it was the longest tunnel in the world, when it was built. We shut it down and went over 160 miles an hour through it.  [We were] the fastest recorded cars ever to go through that tunnel in 40 years.  It was amazing; the sound and everything is awesome."
Or as Adam described it: "You actually felt like a torpedo coming out of a tube."
Other things to look out for in this episode include Adam being crippled by his choice of car ("I showed up in a Viper with the posture of a jumbo shrimp," he quipped), lots of off-color jokes when the guys trek through Intercourse, Pennsylvania, and their arrival in New York City in a helicopter. That's a pretty fantastic opener!