'Top Gear' (USA): Season 4 Finale Chat With Adam Ferrara & Rutledge Wood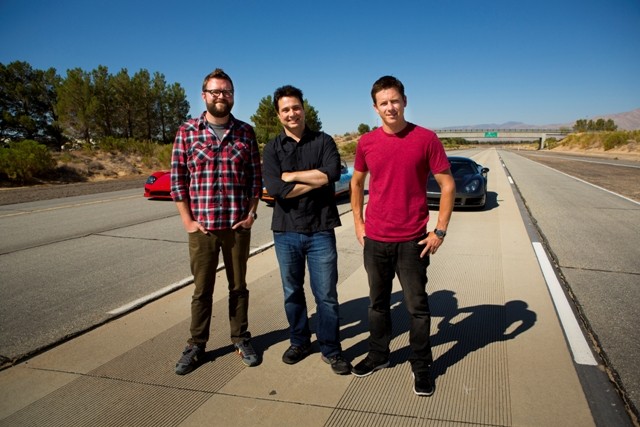 It's time to turn in the keys for another season. History's Top Gear wraps things up tonight, and to send off our favorite motoring show in style, BFTV sat down with two of the show's three hosts - the always hilarious Adam Ferrara and the ridiculously loveable Rutledge Wood - for one last question and answer session. (We can only assume Tanner Foust was somewhere continuing his plans for world domination.)
Now that we've reached the end of Season 4, what would you say you've learned from this season's episodes?
Adam: That homemade amphibious vehicles can sink very quickly!
Rutledge: Hmm. I always learn a lot about Adam and Tanner more than I learn about myself I think. I learned that they're both great swimmers after the debacle in Lake Ontario. By the way, if any of your readers are doing any scuba diving in that lake and see a Jeep Fan Boat, please let us know. There's a very nice camera set up on that one since IT'S THE LAST ONE WE THOUGHT MIGHT FREAKING SINK! Haha. Sorry about the caps.

What would you say was your proudest accomplishment of the season?
Adam: Getting Rut's VW out of the water after crossing Lake Ontario was pretty cool!
Rutledge: For me, honestly, it was not dying in the last show. I've driven some crappy cars in my day, but that '33 Ford Rat Rod was among the worst. The weird thing is it was really fun to drive, right up until the moment you had to reach for the brake pedal. Then you said a prayer and hoped to come out the other side alive.

From a personal standpoint, any favorite memories that you made in the process?
Adam: There are so many, and nearly every one of them involves us laughing like idiots or almost dying. We started the show as colleagues, then friends and now brothers - dysfunction and all.
Rutledge: Trying to cross one of the Great Lakes with two of my closest friends in an amphibious car is something I'll never forget. That was unreal. Oh, and I finally got to answer the question that's been burning inside me for ages: What's it like to drive inside a mall?

There was some cheating going on in certain challenges this season. Is it fair to say the rules of Top Gear challenges have become kind of arbitrary now?
Adam: Now? They're never really arbitrary as much as it's two against one.  Whoever's winning, the other two will find a way to knock them down.
Rutledge: Cheating? Us? Never! Haha. The whole premise is really to do better than the other two idiots you're standing with, so sometimes, we have to get creative. Also, Tanner jumps the start of any timed event, and Adam never pays attention to what the rules are anyway, so we're probably just doing the best we can.