'Top Gear' (USA) Recap: Wasted Barbecue and Falling Stigs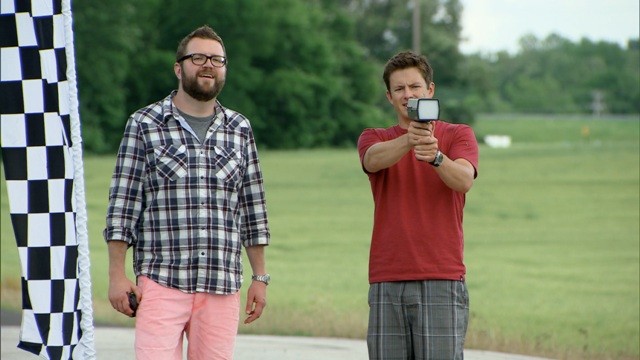 This week on Top Gear, it's go big or go home, literally. Adam Ferrara. Rutledge Wood and Tanner Foust are in Memphis, on the hunt for some very large vehicles. And when they find them, shenanigans will naturally ensue.
Rut, who has decided to wear pink shorts, is driving a Chevy. Adam, who's wearing the same shirt he's worn in at least fie other episodes, has a Buick. And Tanner's got a Lincoln, the biggest and heaviest of the bunch. After the good-natured mockery is out of the way, the guys are tasked with driving from Memphis to Nashville, with of course a few challenges along the way, the first of which is getting their rides off the barge that brought them there.
Rutledge: My kids out picked these shorts.
Tanner: That doesn't make it okay.
On the road, everyone talks up their various vehicles, whether it's Adam telling us about his uncle, Tanner falling in love with the Lincoln's interior, or Rut thinking he's driving a "huge status symbol." Tanner vehemently disagrees with him.
The first task on the to-do list is a quarter-mile speed test. Tanner's body-rolling Lincoln clocks 71 miles an hour and massively smokes when it stops. Rut's Chevy bounces its way to 68 miles an hour. That leaves Adam, whose Buick isn't the issue, it's the guy behind the wheel.
Rutledge (to Tanner): If he drives this like he drives every other car, he's probably dead, we have a chance of dying.
However, Adam gets results, doing a whopping 83 miles an hour and not killing himself or anyone else. While Tanner tries to come up with justifications for his loss, the guys' next task looks like...lunch? It's a full barbecue meal, complete with beverages, but unfortunately they don't get to enjoy it. They have to carry it while driving over railroad tracks. Food aficionados, prepare to cry.
Adam: I don't want to wreck the car, and I don't want to get this in my lap. And I don't see a way of avoiding either one.
Tanner gets macaroni salad everywhere, while Adam's low ground clearance makes him abandon the test entirely, and baked beans start hitting Rut before he's even started the Chevy. It only gets worse from there, leading him to scream about everything that's in his lap just before he punctures a tire.
Rutledge: Why do people drive cars like this? This is a terrible idea!
In true Top Gear fashion, the other two guys abandon Rut and continue their journey, which takes them to a park just outside Nashville. The bearded one eventually rejoins them, albeit with much smaller wheels on his vehicle. With the team back together, they're all given half an hour to come up with something that shows how big and over the top their cars can be.
Rut's idea of this is to stick an entire twelve-foot fishing boat in his trunk. Adam, being the mentally questionable person we all love him for being, puts a baby grand piano on top of the Buick, along with a gentleman named Ian playing it. However, Ian falls off as soon as Adam pulls out of the parking lot. We hope he's okay.  Tanner tries and fails to slide across the hood of his car before leading his co-hosts on a journey. His plan is to use his roof as the landing pad for a skydiving Stig, which earns begrudging praise from Adam and Rutledge.
Declaring himself the winner of the episode (since he wins every time there's a driving prize on the line), Tanner heads off to test drive the new Corvette Stingray. What follows is a lesson in Corvette history, a lot of tire smoke, and Race Boy driving like a calculated maniac around the streets of Detroit to challenge Chevy's new traction control system. That last part involves him technically racing himself, so it opens the door for plenty of corny jokes about having more than one Foust. Unassisted Tanner wins out. But the real lesson here is, when there's a sports car test at the end of the episode, just separate it from the competition and let Tanner do it, because we all know he's going to anyway.
It's important to know that Top Gear is taking a bit of a break next: new episodes will not air on History again until Tuesday, October 22. But if you need a fix before then, Tanner and Rutledge will be joining Brian Unger to co-host the special presentation Wheels of Fortune this Saturday, September 28 at 8 PM ET/PT. See you in a month!
(c)2013 Brittany Frederick. Appears at Starpulse with permission. All rights reserved. No reproduction permitted. Visit my official website and follow me on Twitter at @tvbrittanyf.