'Top Gear' (USA) Recap: 'Viking Trucks'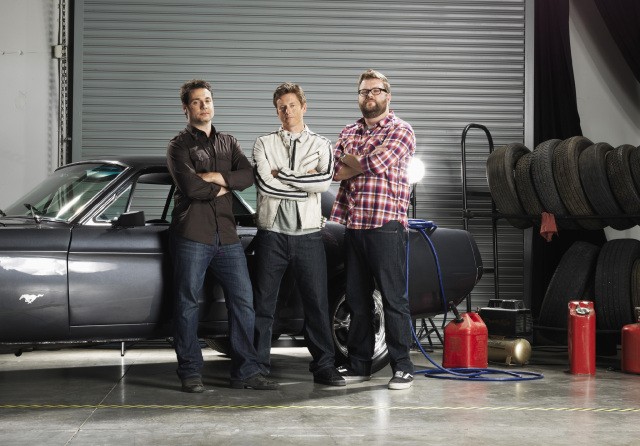 The Top Gear season is over already? What? Yes, Virginia, it's that time again - but at least Adam Ferrara, Tanner Foust and Rutledge Wood are going out big. They're not even in this country.
They're in Iceland, to be specific, with Adam and Tanner delivering a suitably dramatic introduction to their last shenanigans. They've all bought the best American trucks they can find, and are tasked with seeing which one can best survive this international expedition. Tanner arrives with a Ford Bronco, Rutledge and his International Scout will never get lost in a crowd because they're both bright orange, and Adam is immensely proud of his Chevy K30. Game on, beginning with "terrifyingly narrow" city streets. "Terrifying" is also the word Adam chooses to describe his Chevy once they're out on the open road.
The guys decide to have a quarter-mile drag race on a stretch of black sand beach, which Tanner wins handily, followed by Rutledge and his rolling road cone, and then a disappointed Adam. Afterward, they arrive at the Viking Parliament, where everyone discovers that Tanner is the only person who can pronounce anything, and that they're going to try to drive on a volcano, about a hundred miles away. If you thought Minnesota ice driving was tough, you haven't seen anything yet.
Adam: Just three idiots driving in the middle of nowhere...like any other day.
All our heroes can see is white, and it's not long before the Chevy is falling behind, partly because it's carrying the one hundred and fifty gallons of fuel everyone needs. Adam isn't the only one with problems, though: Tanner decides to get out and push his struggling Bronco. While he and Rutledge jockey for position and ultimately get stuck together, Adam comes to the psuedo-rescue. As the weather gets worse and the sky gets dark, an understandable nervousness ensues. Especially when they have to undertake a river crossing. Thankfully, no one ends up in the freezing cold water.
After some hard-earned rest in less-than-impressive accommodations, the trio get back on the road the next morning, forced to go through the ominously named 'Valley of Doom,' which includes some ridiculously steep terrain that causes them all more issues.
Rutledge: This does look a bit doom-y.
You know things are bad when someone asks if there's another option, because these guys are that unique combination of fearless and possibly insane. Yet eventually, Adam, Tanner and Rutledge admit defeat and decide to take the long way to their next stop, even though it means driving blind in the dark. They're forced to sleep in their trucks for the evening, having to keep the engines running to stay warm. It's definitely not anyone's idea of a good time.
The following day, it's get to the end or go home in defeat. The guys lay eyes on their intended destination, and Tanner declares that it resembles certain death. Cue dramatic music as they deal with ice and fog while closing in on the base of the volcano - and find that their cabin for the evening has not only been buried under snow, but that its interior resembles something out of a horror movie.  That's not how you want to spend the night before you tackle a major challenge.
Things don't get any better once they're back behind the wheel. Adam, Tanner and Rutledge find themselves facing a severe whiteout and running out of daylight. As their trucks struggle, morale begins to waver, although Adam gives his best patriotic speech in an attempt to rally his colleagues. Finally, mercifully, they all break through and reach the finish line, with Adam planting a tiny American flag in the snow to mark their accomplishment.
With that, we say goodbye to Top Gear for another season, after all the car-related carnage, chaos and yes, crazy brilliance. Let's hope Adam, Tanner and Rutledge are all on their way to some well-deserved vacations!
(c)2013 Brittany Frederick. Appears at Starpulse with permission. All rights reserved. No reproduction permitted. Visit my official website and follow me on Twitter at @tvbrittanyf.