'Top Gear' (USA) Recap: 'Taxis'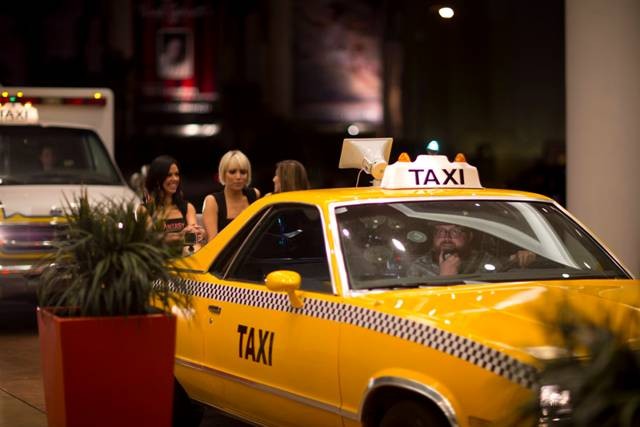 But none of that really matters, because it's "winner take all" as the guys hit the streets to pick up living, breathing passengers who have no idea what they're in for. Adam starts with four party-minded guys in his ambulance, while Tanner has three dudes at the Tropicana, and Rutledge escorts a couple to the local Hooters. Chaos ensues (obviously). The guys all manage to drop off their first fares without serious incident, although Tanner gets lost and it costs him.
The second round sees Adam pick up Murray Sawchuck (the magician you might know from VH1's Celebracadabra) and his assistant, Rut snagging some showgirls, and Tanner on his way to Mandalay Bay with a pair of pretty girls who don't speak great English, but seem to really enjoy his company. After dropping off the ladies, Tanner is excited to be summoned for some exotic dancers...only to be slightly let down when he finds out they're men. Desperate to score big to keep himself in the competition, our racing driver unleashes a cloud of smoke on the Las Vegas Strip. It works, and he lands a hefty tip, while Adam's trading lines from Taxi Driver with a guy who looks suspiciously like Robert de Niro. Rut banks $55, Tanner has $80 and Adam is at $140, making him the winner. However, Rut and Tanner quickly disqualify him for his use of the ambulance's lights and siren.
That means yet again, Tanner wins the prize for the episode, which is driving a new supercar in Miami - the McLaren MP4-12C. He calls it "the most obsessively engineered car ever made." He enjoys using the McLaren to its fullest, and even tests out his British accent. But to keep Tanner interested, the producers pit the supercar against NASCAR star Carl Edwards and his #99 ride in a ten-lap competition (rightfully bringing NASCAR analyst Rutledge along for color). Carl mocks Tanner's ride and the amount of hairspray he uses, then pops Race Boy on the last lap to beat him on the track. This episode raises two questions: how rarely does someone topple Tanner Foust? And who's surprised (but glad) that our heroes didn't have to make real use of that ambulance?
In related news, BBC/Warner released the second season of Top Gear on DVD this week, and if you haven't picked it up yet, you can read my review to tell you why you should.
(c)2013 Brittany Frederick. Appears at Starpulse with permission. All rights reserved. No reproduction permitted. Visit my official website and follow me on Twitter at @tvbrittanyf.