'Top Gear' (USA) Recap: 'RVs'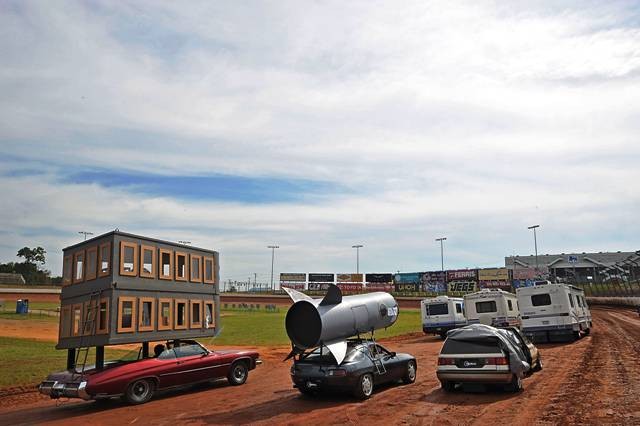 The guys stop in Concord, North Carolina to do a little drag racing, not just against each other but also against a top-of-the-line traditional motorhome. Tanner takes the race, just barely edging out Adam, who celebrates by announcing that "I don't suck!" Rutledge, on the other hand, narrowly gets to the finish line before the standard RV, thanks to what he calls "a bad start." Adam is just thankful that he's still alive. So are we, Adam. So are we.
Fifteen miles outside Charlotte, it's time for another Top Gear quality test. This may be the funniest one in the history of the American edition. The RVs must hold up against the power of multiple industrial fans blowing rain and debris, while the hosts are charged with getting into their living spaces and changing into rain gear. It's chaos from the word "go."
Trying to get a hold of his raincoat, Tanner falls and ends up landing face first on the hood of his Porsche and after that, gives up entirely with an expletive. Adam fares much better, since he has a whole building to take shelter in. Rutledge stands no chance, and has a wardrobe malfunction, too. At the halfway point, the score is Tanner two, Adam one and Rutledge zero.
The guys finally reach their destination: Redneck Hill at Charlotte Motor Speedway. They're then charged with seeing who can get the most guests at their tailgate party. Considering that this is a NASCAR event, this challenge is made for Rutledge. The NASCAR drivers eventually have to come over and see what the hell is going on. Kenny Wallace says hi to Rut, Carl Edwards visits Tanner and asks him if he's okay, and Greg Biffle gives Adam some company. And surprising no one, Tanner gets hit on by a woman. I'm pretty sure Tanner gets hit on at least once a day.
Things don't really get interesting, though, until the next morning, when the guys compete in a six-lap "winner take all" race against NASCAR drivers in standard RVs. If you saw Richard Hammond's extreme motorhome racing, you know what's about to happen. The NASCAR pros enjoy terrorizing our heroes (and each other), and one of them finally causes Adam's Buick to flip over. Tanner's engine gives out just before the finish line. So inexplicably, Rutledge wins everything. For the second straight episode, he's got to give his coworkers a lift home.
"It takes more than just strapping stupid crap to the top of your car to make a good RV," Rutledge says in voice-over, which pretty much sums up the whole episode. If you want to see the UK Top Gear's DIY motorhome challenge, click on the video below.
For more from Brittany Frederick, visit my official website and follow me on Twitter (@tvbrittanyf).
(c)2013 Brittany Frederick. Appears at Starpulse with permission. All rights reserved. No reproduction permitted.