'Top Gear' (USA) Recap: Off Road Racing With Tanner Foust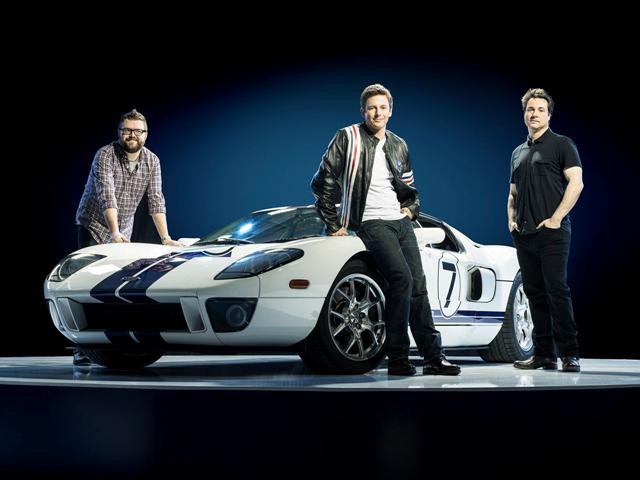 This week's Top Gear takes us into Tanner Foust territory, as the Golden Child brings his two co-hosts into his world of rally car racing to see if they can handle it. The team meets up just outside Seattle, with Rut and Adam grossly underestimating what they're getting into before Tanner makes his usual sideways entrance.
At Washington's DirtFish Rally School, he makes them watch as he steers a car through what he terms "a simple rally course," during which the Top Gear camera guys get us our necessarily cool slo-mo shot. You'd think this would give the guys the hint that it's a lot harder than it looks. But Adam opens his mouth and challenges Tanner to a race in 24 hours. Big mistake.
After Adam and Rut bail on DirtFish's classroom session, Rut texts Subaru rally driver and X Games legend Bucky Lasek for help so that they don't kill themselves. Bucky sets up his own course, and tells Adam that it's his job to get them both through it. He learns very quickly that trusting Adam Ferrara with your life can be dangerous. Rut, on the other hand, is driving less like the guy who won the 2013 Toyota Pro/Celebrity Race and more like he's taking a casual trip to the mall. Our heroes clearly have a lot to learn.
What's Tanner up to during all this? He's got an actual race to run, thank you very much. But he's not piloting his usual Ford Fiesta; he's behind the wheel of a Mini Paceman. The Mini's about to get a serious test, as rally racing punishes its vehicles like nobody's business. "Let's just go 100 miles per hour through the trees. Sounds like a good idea," Tanner quips. His co-driver is not amused. After they manage to break the Dynamic Stability Control, the frustrating Mini is actually easier to race, and it takes them to a fifth-place finish. So the lesson here is if you want to take a street car rally racing, break something first.
Back at DirtFish, Adam and Rut have stopped terrifying Bucky, who decides to further test them by chasing them over two laps on the track. Although he gives them a 30-scond head start, he's on their heels before they've even finished their first circuit, and makes quick work of Adam before dispatching Rutledge just moments later. Their poor performance has Adam and Rut doubting their ability to beat Tanner by any ethical means. So of course, Adam has an idea.
He selects Hell's Canyon has the site of the race, and further baffles Tanner by pitting him, in a borrowed Subaru rally car, against the new Aston Martin Vanquish driven by Rutledge. Adam's ride is even more surprising, because it's not even a car - it's a speedboat. Appropriately, the boat is named "Pure Insanity." It's not surprising that he isn't allowed to drive it.
Once the final showdown itself is underway, it's a matter of seconds - and a lot of bleeped profanities - before Adam is regretting his decision-making. Rutledge is almost too comfortable in the Aston. Tanner is worried about flying off a cliff to his demise, but we know that didn't happen. At the finish line, it's the boat that squeaks out a victory, with the rally car successfully blocking for second place, and cracking the Aston's windshield in the process. Hopefully that got fixed.
But if there's one thing everyone should've learned from this week's episode, it's that rally car racing is not easy, nor is it for the faint of heart. Until next week...
(c)2013 Brittany Frederick. Appears at Starpulse with permission. All rights reserved. No reproduction permitted. Visit my official website and follow me on Twitter at @tvbrittanyf.