'Top Gear' (USA) Recap: 'Minnesota Ice Driving'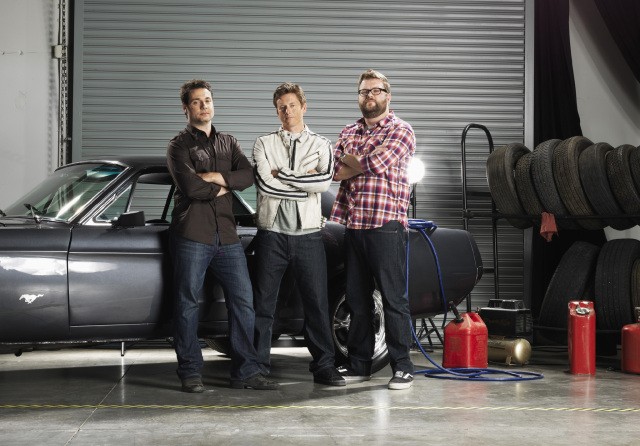 As if Mammoth Mountain wasn't enough, the hosts of History's Top Gear are now going to tackle ice driving in Minnesota, which Tanner Foust describes as "one of the harshest environments in the country." Yep, the producers are really trying to kill these guys.
Trying to identify the perfect winter vehicle for under two thousand dollars, the hosts first have to get their chosen vehicles out from underneath piles of snow. What did they pick this time around? Adam has a Chevy Blazer S10, Tanner a Nissan 300ZX, and Rutledge a Subaru Legacy GT. After the usual round of disagreeing, all three cars are promptly subjected to a series of challenges.
The first task brings the guys to a testing facility specifically for cold weather so that they can take stock of their cars' braking and handling on a predetermined course. After being the first to extricate his car, Rut has early issues driving it, but clocks in at 1:53.13. Tanner is next to go, with perhaps the most boring lap Tanner has ever driven, at least until he gets stuck and abandons the Nissan, deciding to run the rest of the circuit. This pushes his time over two minutes. That means only Adam has a shot at beating Rutledge, but that would require his Blazer actually starting.
With Rut out to an early two-nothing lead, the next challenge means parking their cars in a cold cell and seeing who can last the longest, reminiscent of the cold weather endurance test Richard Hammond went through in the UK version's Winter Olympics Special, except now it's a competitive sport. Much squirming and complaining follows, as does some creativity: while Tanner can hear his car cracking, Rutledge tries to sneak in a workout and Adam starts a fire. It's Rut who's the first to bail, followed by Adam and then Tanner. To make matters worse, Adam really doesn't recover well.
The next day, the guys are pitted in a five-lap race against local drivers, and decide that this will be a winner-take-all challenge. When the other two hosts find out he's studded his tires, Tanner is also forced to haul a portable bathroom behind him, prompting him to raise the middle finger at his colleagues. As Adam darts out to an early lead, Tanner languishes behind with his extra cargo, so he decides to ditch the added weight at the earliest opportunity and sets out for revenge against his cohorts. He flips Adam off again as he catches up with the Blazer, and it's an all-out battle on the final lap. Everyone slides everywhere, and thanks to Rut, Adam holds onto his lead. This week, the Imaginary Top Gear Trophy belongs to Adam Ferrara.
But there's an epilogue! Tanner heads back to his native Colorado to introduce audiences to the 2013 Bentley Continental GT, which he's going to pit against a snowboarder. He's already raced a car against some skiers, so why not? Our racing driver likens the Bentley to an Audi (as Bentley was bought out by the same company that owns Audi), which is particularly amusing since Top Gear UK raced an Audi against more skiers a few seasons ago. Once the race is underway, though, Tanner struggles with the Bentley's weight and comes a little close to flattening the competition under his tires. Thankfully, he doesn't kill the skier and just barely wins the race, keeping his pride (and that of car owners everywhere) intact for another day. Yes, Tanner, but could you drive it with a bathroom on the back?
(c)2013 Brittany Frederick. Appears at Starpulse with permission. All rights reserved. No reproduction permitted. Visit my official website and follow me on Twitter at @tvbrittanyf.