'Top Gear' (USA) Recap: Coast to Coast In Three Supercars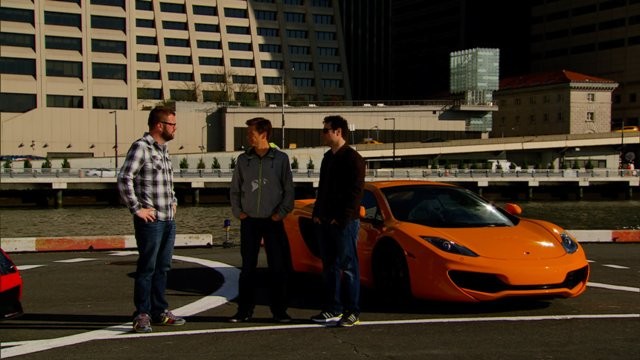 Top Gear USA is back, and logging a lot of mileage in this week's season premiere. Adam Ferrara, Rutledge Wood and Tanner Foust are traveling cross-country in a trio of supercars. Naturally, this is more interesting than any vacation the rest of us have been on.
The guys arrive in Lower Manhattan in a helicopter, eagerly awaiting the chance to size up each other's rides. Rut has a Lamborghini with a title longer than my name, Tanner's driving a McLaren that sounds like it was named after a fax machine, and Adam has picked out an SRT Viper that Rut refers to as a "mobile coffin." The itinerary is to race to Venice Beach, completing several challenges along the way, with the loser having to pick up the gas bill for all three sets of wheels...if they can get out of New York traffic first. Being from New York, this is normal for Adam, including the yelling.
Eventually, the supercars are let loose as the guys head toward Pennsylvania. The McLaren demolishes the Lambo and the Viper in the required drag race before they roll into Amish country, where their first job is to bring back an authentic Amish hat. Hilarity begins almost immediately. Tanner slightly confuses Amish and Jewish before accidentally interrupting someone's dinner. Adam breaks out a hilarious Boston accent as he talks about how ridiculous he thinks this particular objective is. Rut, being the nicest TV personality in the world, gets the task done first by trading a ride in the Lambo for a hat. Although, the one Tanner bought doesn't look half bad on him.
Saying that they've been driving so long that their only options are "sleep or die," Rutledge tells us that "Tanner found a lovely place where both of those looked like an option." This raises the question of how the guys are going to protect their very expensive rides. Adam so dislikes the lodging option that he opts to sleep in his car, Tanner steals a couple of fuses so the McLaren won't start, and Rut actually chains himself to his, albeit through the window. Now that's an anti-theft measure.
The next day, in the pouring rain, the guys find themselves pulled over by the cops. It's surprising that this doesn't happen more often in either version of Top Gear. "Don't use my real name," Adam quips, joking that they had to assure the cops Tanner was old enough to drive. Once that's dealt with, the guys are tasked with taking a photo of their car on the 50-yard line of a football stadium, with the person who finds the largest venue being declared the winner.
Tanner visits the University of Missouri and literally drives into the middle of a practice session. Adam sets his sights on Arrowhead Stadium, the home of the NFL's Kansas City Chiefs, but is irritated when he realizes Rut has followed him there. Rut gets lost, though, so Adam is first to hit the grass, and does his fair share of gloating. Tanner has a hard time accepting defeat.
This marks the halfway point of their cross-country adventure. Eventually, the guys wind up in Tanner's home state of Colorado, where their next challenge is to visit the historic Eisenhower Tunnel and see who can get through it the fastest. Speed being one of their favorite words, this should be easy, right? Especially when the local cops helpfully shut down the tunnel for them? Not even close. Rutledge is first to go, and freaks himself out while reaching a top speed of 150 MPH. Race Boy is chomping at the bit, gets bleeped by the censors repeatedly, and clocks in at 165 MPH. "All I know is I just checked something off my bucket list," he comments. Adam is convinced he might die, thankfully doesn't, and scores 147 MPH.
After that brain-breaking experience, it's into Utah, where Tanner makes the expected polygamy joke. The guys get through Arizona without incident and make their final stopover in Nevada before setting out on the last leg of the trip. Though they're tired, lonely and in some physical discomfort ("I'm beginning to hallucinate," declares Adam), they're in good spirits by the time they're driving through Los Angeles. Their final task is to snag a photo of a celebrity in their car. Adam wisely just calls his BFF Denis Leary, but is thwarted when Denis isn't available. While he keeps going through his contact list, Tanner finds a Marilyn Monroe impersonator, and Rut shows up unannounced at Laurence Fishburne's house (allegedly). All he can get is a picture of the front gate. Adam decides to take the loss and just head for the finish line, before he spots a familiar face.
Rut is first to arrive at Venice Beach, followed by Tanner, making Adam the last-place finisher. Understandably, Adam rails against his colleague's inability to complete their final challenge, before Dolph Lundgren pops out of his Viper. Tanner makes the whole thing better by declaring that he's going to buy margaritas. That's how you end a road trip!
"Coast to Coast" is an opener that's everything you'd expect from the Top Gear brand, which has sort of carved out a niche on both sides of the Atlantic with various road trips. There's the usual hilarious banter between hosts, lots of pretty scenery, and a handful of jaw-dropping moments to keep even the most casual of viewers interested. Now let's see how the season goes when the guys get into the more insane challenges!
(c)2013 Brittany Frederick. Appears at Starpulse with permission. All rights reserved. No reproduction permitted. Visit my official website and follow me on Twitter at @tvbrittanyf.