'Top Gear' (US) Recap: 'Muscle Cars' (3.02)
One thing that's universal with Top Gear: its willingness to exploit the suffering of its hosts for entertainment. This week's American edition is one of those episodes.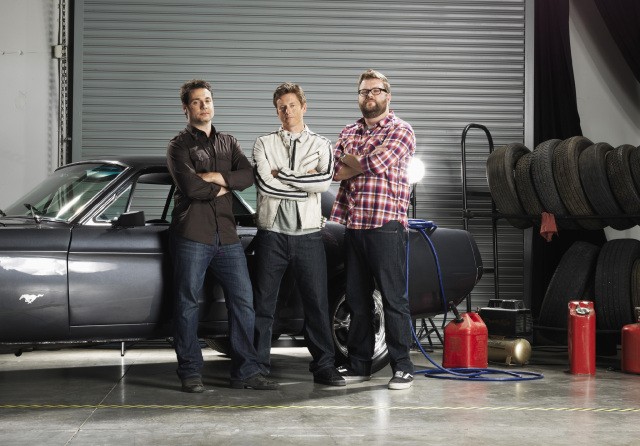 In this week's episode, the guys are breaking out a trio of muscle cars to test their mettle. Rutledge has the Dodge Challenger SRT-8, Adam brings a Ford Mustang GT, and Tanner drives up in a Chevy Camaro SS Auto. After a little good-natured ribbing of each other's cars (and Tanner's choice of shirt), it's challenge time!
First, they've got to drive to the Los Angeles River, which happens to be 20 miles away. This is normal for Top Gear challenge shows, as it gives the presenters time to test out their cars and comment on...well, just about anything. Tanner admits that he's probably screwed, while Rutledge confesses that he's seen Grease a lot. At the River, the trio is greeted by classic versions of their rides (and one random homeless guy; you never saw that on the UK version). They're supposed to take these out for another show staple: a drag race. Rutledge opens up an early lead, but has some trouble stopping and is overtaken by Tanner at the halfway point. Meanwhile, Adam is just trying to keep from running over some ducks.
With the starting stuff out of the way, we can now get into the more bizarre challenges that we all love this franchise for. The guys roll up on an old drive-thru theater in my neck of the woods (hello, Riverside) for a handling challenge...while connected to electronic muscle stimulators. "You're not holding on to anything that's attached to me," Adam tells his colleagues while getting hooked up, and is in pain before he even starts the car (mostly because Tanner keeps pushing the buttons for his own amusement). Rutledge wonders aloud if he's going to throw up. And Adam decides to paste Tanner's electrodes to his face, which results in an adorable "lost puppy" look from my favorite racing driver.  Lots of bleeping happens in this segment. "It's like you hope something like this will happen to your friend, and then when it finally does, you feel so much better," Rutledge quips, which sums things up nicely.
We take a break from the mayhem to see Rutledge and Tanner race Mustangs against real-life horses. This is harder than Tanner expected, especially since his communication with Rutledge leaves something to be desired, and Rutledge insists on driving the speed limit. Things get a little closer at the end, but it's still a loss for Team Top Gear. Attempting to save some dignity, the guys turn over both the Mustangs they used in the race to The Stig to set some lap times. The more expensive Roush does a 1:28.9, but the cheaper, smaller Boss 302 beats it wth a 1:28.2.
Back to the challenges: resident NASCAR expert Rutledge brings everyone to the Auto Club Speedway in Fontana, where you'd think he'd have an advantage. Unfortunately, the guys are quickly pwned by actual stock cars. What are they going to do about this? Well, they're going to try to beat a top speed that The Stig set in each of their cars, even if that means making some modifications, which to Adam means decorating. "I'm just listening for the crash," Tanner admits as he watches Adam, who comes up 12 MPH short. Tanner's splitter falls off before he leaves pit road, and Adam gleefully tells him that counts as a lap, so Tanner doesn't even come close to beating The Stig. And Rutledge scares himself doing just over 140. Like last week, this means that there's no clear winner.
This week's Big Star, Small Car is Rules of Engagement star Patrick Warburton (who will always be The Tick in my head). He is not confident in his driving abilities, even though Rutledge is very complimentary during his narration of Patrick's lap. I give Patrick points because he drives one of my two dream cars, a 1969 Dodge Charger. He clocks in at 1:41.8, which sets the new fastest lap on the US series. That's a pleasant surprise!
It's true that this isn't the first time Top Gear has tackled muscle cars (as I mentioned previously, the UK edition did this during series 12) but the US version brings its own hilarity to the premise. As a running segment on Richard Hammond's show Brainiac proved, trying to do anything while being electroshocked is both impossible and hilarious. I really like all three of these guys, and I know I wouldn't have the guts to undertake that challenge, and yet I could not stop laughing at their pain. It's something that wouldn't be out of place on the UK show.
This episode is a nice illustration of the differences between the two series and their respective markets. They tackle the same topic, but we come out with two episodes that feel very different. For those of you that have seen the British muscle car episode, the UK hosts got into a lot more trouble. At least, unlike the UK version's muscle car test, these guys weren't busted by the cops. Yes, that was a lot of fun to watch, but it's not something that I could see the US censors, lawyers, what have you laughing at. I'm pretty sure the folks at the BBC are used to Jeremy, Richard and James by now and give them a lot of slack (look at all the complaints they get); here, I don't think Adam, Tanner and Rutledge would have the same flexibility. Still, they find their moments of banter and bravado where they can, and it works for them.
At the end of the day, I came away from this episode with the hosts' genuine appreciation of American muscle cars, and it was something that I shared with them. If Top Gear is anything, it's a celebration of cars and their culture, and this second episode definitely fulfilled that purpose.
(c)2012 Brittany Frederick/Digital Airwaves. All rights reserved. No reproduction permitted.