'Top Gear' (US) Recap: Donald Trump Goes Shopping For 'Supercars'
On this week's Top Gear, the boys are borrowed by a mysterious celebrity to test high-end convertibles in order to find the perfect one. Sounds easy, right? Not on this show.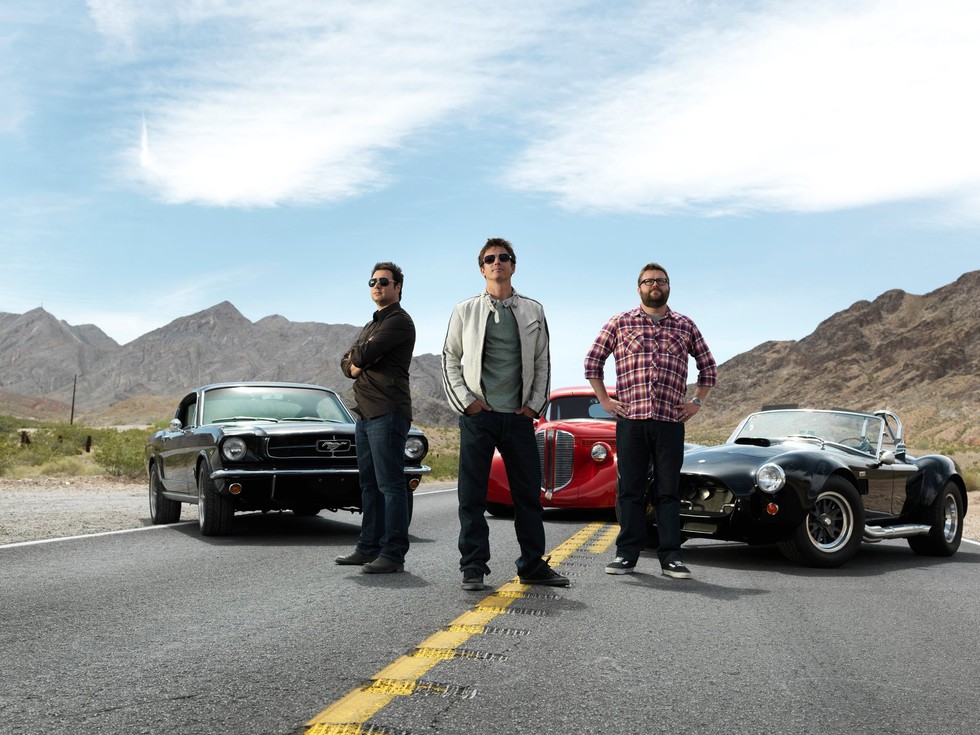 Rutledge brings the Lamborghini Murcielago Roadster, even if he has some difficulty getting out of it and calls it "the most impractical car in the world." Backed by some violins, Adam drives up in the Bentley Continental GTC. Hearing the two of them talk about rappers and Kim Kardashian is hilarious in and of itself. But then Tanner rolls up in a Porsche Turbo S Cabriolet. All of them are tasked with getting to New York, and taking on the usual series of challenges along the way.
The first task takes place at an airfield in Kingston, NY. Their mystery client is a huge golf fan, so they have to race a golf ball in a 250-yard dash while wearing bad hairpieces meant to simulate celebrity style. It takes Rutledge the better part of an hour just to get the top down on the Lambo, and he loses his wig on the runway, but he beats the ball, at least. Adam keeps the hair but isn't even close to outrunning the ball. Tanner tells us that he used to have orange hair (?!), but that's okay because he's the only person to accomplish both goals.
From there, Rutledge gets nauseous on the way to a private racetrack, where the next assignment is to do two laps of the track, one of which must be driven by an elderly woman. Having seen my elderly relatives drive, I am instantly concerned for the health and safety of everyone involved. Adam takes to instructing his co-driver better than either of his colleagues, but scares her when he gets behind the wheel. I'll go on record as saying I would love to ride in a car with Adam Ferrara any day; I think it'd be a great time. Then again, I also love motion simulators and certain roller coasters, so maybe I'm just as crazy as he is. Anyway, we get to see a Lambo do 22 miles an hour, and Tanner wins the challenge.
The guys head toward Central Park, and New York native Adam does his best to help his colleagues through city traffic, to no avail. Rutledge and Tanner quickly get lost, and Adam beats them to Trump Tower. This convinces the guys that their mystery shopper is Donald Trump. No, you didn't switch over to Sunday's Celebrity Apprentice. This is really happening.
He hears all the guys' pitches outside, while there's a whole throng of fans trying to snap pictures, and then says he'll see our trio upstairs in the boardroom. That's always a good sign, right Adam Carolla? No, wait...
The boys make their best arguments to Trump in the boardroom. Trump "fires" Tanner and Rutledge, and "hires" Adam's Bentley. For once this season, we have a clear victor! (Though that doesn't stop the arguing that seems to end every show.)
This week's 'Big Star, Small Car' is Jon Huertas, who wonders aloud if he'll have to pay for the car should he crash it. You know, I've always wondered about that. He accidentally turns the windshield wipers on mid-lap and claims he had to throttle things back so as not to upset the producers of Castle. One wonders how fast he would have gone if he was all out, since his 1:44.3 ties Bill Engvall.
The "Supercars" excursion has its strong points and its weak points. Yes, it was kind of neat seeing Trump and Trump Tower, but not nearly as fun as when Jeremy Clarkson drove a Peel P50 around the BBC, for example. Maybe if I was a Trump fan, I might have been more intrigued, but I had more fun getting to see the guys in New York, whether it was Adam on his home turf or Rutledge trying to explain himself to total strangers. No offense to Mr. Trump, but the TG trio are fun to watch all on their own.
Watching the guys instruct elderly ladies on driving supercars was funny as heck, too, but it would have been even funnier if we could have secured their own mothers, like the UK Top Gear once did. Meanwhile, we learn that Adam is pretty good at teaching, and that Rutledge needs to invest in Dramamine. So again, the humor comes more from the hosts, not from the specific content of the episode.
Still, next week US TG takes on one of the laugh-out-loud episodes of its UK counterpart: making stretch limos. It will be interesting to see if the American trio can make as huge a spectacle as the Brits did. They certainly have no excuse for a bad episode with such great material. Will we see Adam driving down the road with half a limo? We'll find out, and I'm looking forward to it.
(c)2012 Brittany Frederick/Digital Airwaves. Appears at Starpulse with permission. All rights reserved. No reproduction permitted.