'Top Gear' (US) Recap: 'Dangerous Cars' (3.03)
In this week's Top Gear, Adam, Tanner and Rutledge take their lives in their own hands again, driving three allegedly dangerous cars: the Ford Pinto, Suzuki Samurai, and Chevy Corvair.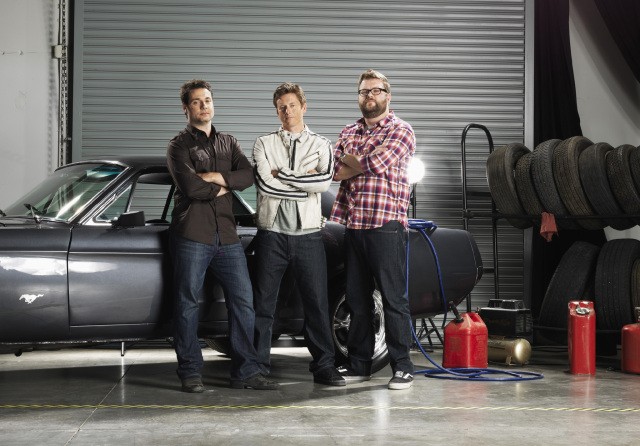 Rutledge gets the potentially flaming Corvair, while Adam gets a chance to blow himself up in the Pinto, and Tanner has to drive the unturnable Samurai, all of them en route to (what else?) a demolition derby. "I don't feel like there's a huge amount of inherent danger in the car," Rutledge says, while Adam agrees "There's good and bad in everything in life." At least our guys are optimistic in the face of potential bodily harm.
The "unfortunate" first challenge is a race around a very twisty track. Everyone has a bit of an issue with this, but when he's focused on not losing to Adam, Tanner ends up rolling the Samurai. This frightens me; if a professional racing driver can't keep the thing upright, I certainly would have no shot. This being Top Gear, though, no one checks on him until after the race is over. Thankfully, he's okay. Adam's Pinto starts smoking, but he's unbothered. "I played a fireman on TV. I know what fire is," he insists. "I'll be fine."
With that in their minds, the guys decide to undertake modifications to make their cars safer. Adam's put a guard rail on the rear end of the Pinto to keep people from bumping into the back of him, and added a pair of fire extinguishers for good measure. Tanner attaches giant training wheels onto the Samurai so that it can be driven on two wheels. Rutledge says that looks like "an amusement park ride in a third-world country." His idea involves having six rear wheels on the Corvair. These cars are hideous, but somehow endearing.
The altered vehicles now have to run an obstacle course. Adam goes first, and has such a difficult time seeing that he has to open the driver's door. Rutledge doesn't fare much better. Surely Tanner can repair his ego with a good showing, right? Uh, no, but he does get bleeped a bunch. "You can kiss my ass," he tells his colleagues after placing dead last.
After these spectacular fails (and they have been glorious), it's time for the demolition derby. To give you an idea of how this goes, Tanner ends up coming down on the hood of Adam's Pinto, which Rutledge helpfully slams into the back of. Everyone's car looks ridiculous by the end, and the Pinto is stuck in a ditch. Rutledge wins, but only by virtue of being the first one to drive out of the arena. Oh, and the Pinto finally explodes unprovoked.
In other happenings, Rutledge and Tanner have decided Adam needs a little help to break his car-wrecking habit, with Tanner referring to him as "really, really brave, or ignorant." To that end, Rutledge puts Adam behind the wheel of an Ariel Atom, and after some instruction from racing driver Boris Said, Adam chops twenty-three seconds off his lap time. As if that wasn't cool enough, with the Stig behind the wheel, the Atom sets a new fastest lap on the leaderboard.
This week's Big Star, Small Car is the awesome Joe Mantegna (who will always be Fat Tony from The Simpsons to me). Joe is big on talking to himself while he's "gently" driving around the track. He clocks in at 1:51.1, which puts him a few seconds behind Adam Levine. Between Joe and the likes of Adam and Ed Burns, it's cool to see Top Gear attracting some more interesting names as the show has continued on. All types of interesting people have been on the UK series, and I'd love to see the US edition attract people like its predecessor does. Tops on my list? Comedian Lewis Black or Adam's The Voice coach Blake Shelton.
A recurring theme with Top Gear is how the hosts can create some truly insane vehicles (see: amphibious cars, or Jeremy Clarkson's Leaning Tower of Caravan, or Richard Hammond's attempt at a police cruiser). It was neat to see the US presenters do that this week; they might not have fixed any problems, but at least they tried, and with amusing results. And honestly, it was laugh-out-loud funny to see Tanner roll that Samurai, if only because he's the last one of the three that I'd expect to do that, and because of his obviously bruised ego after the fact.
Speaking of Tanner, this was the first time we saw an unspoken Top Gear rule on the US version: when your fellow presenter's car is disabled and/or he may be dead, feel free to leave him behind. Like the UK threesome have done numerous times, Adam and Rutledge didn't stop racing after they saw Tanner roll. On Top Gear we'd expect nothing more.
This episode might not have been as hilarious as the first two of this season, but I'm okay with that, because I like Adam, Tanner and Rutledge, and I'd like not to kill them for the sake of entertainment. Car culture would be a sadder, lonelier place without these three to consistently get into trouble.
(c)2012 Brittany Frederick/Digital Airwaves. All rights reserved. No reproduction permitted.