'Top Gear' (UK) Recap: Toyota Corolla vs. America's Cup Sailing Boat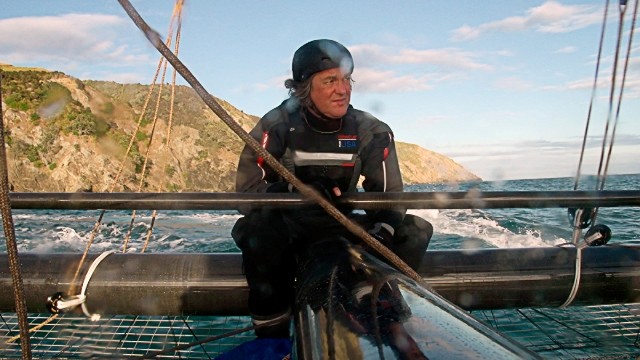 There have been 20 series of Top Gear. That's like 10 times the number of seasons most TV shows get. And after all that time, Jeremy, James and Richard are still going strong.
Tonight, Jeremy claims "we've slowed down a little and grown up a lot," eliciting a collective groan from the studio audience. Of course, he's kidding. After the usual series-opening montage, he leads into a film where Richard is reviewing a series of hot hatchbacks: the Peugeot 308 GTI, the Renaultsport Clio 300, and the Ford Fiesta ST. After Richard takes the trio around the Top Gear test track, he turns them over to The Stig to set lap times. The Clio wins that battle with a 1:32.0, but Jeremy and Richard would still have the second-place Fiesta.
On to the news. The guys discuss the feasibility of opening pubs in service stations, which Jeremy calls "stupid," after which he refers to James as a "raving alcoholic." Richard wants to gripe about potholes, after getting hit by his own bike in a very tender region when he rode into one. "How has the world managed without us for the last few months?" Jeremy quips after hearing that. He and James also suggest that Richard move house, once again teasing him for living in the countryside. Oh, jokes that will never get old.
Now it wouldn't be a series of Top Gear without a "car vs. something" race, and so we have one in this first episode: Toyota Corolla vs. America's Cup vessel. As is always the case in one of these races, Jeremy is driving the car, and unsurprisingly James - he of the Triumph Herald yacht - gets sailing duty. (Richard sits this one out, probably a good thing considering how seasick he got during the London-to-Oslo race in Series 6.) The course is a designated section of New Zealand. James has a team full of America's Cup veterans on his side, while Jeremy's big advantage is...the fact that his car is a rental, so he can cause as much carnage as he likes. And he intends to: he's taken out six Loss Damage Waivers.
At first, it's business as usual, at least in Top Gear terms. While James begins his part of the race by falling over, Jeremy declares that he's "on a mission from God" and promptly starts shouting at it. He then hits something while James just gets hit in the face. Both of them bluster along through the first part of what we discover is a two-part film.
But wait, there's more! It's time to bring in a new Reasonably-Priced Car - a Vauxhall Astra Tech Line - which means that we must also haul in a few celebrities for another garden party so that they can rack up some new lap times. You'll recall that the last time this happened, back when the Kia Cee'd was introduced in 2010, things went completely insane, with Jeremy falling all over Amy Williams, and Bill Bailey pretending to be Angelina Jolie. So how crazy is inauguration day going to get this time?